We are pleased to announce the appointment of Professor Leon Feinstein to the role of Director of the Rees Centre.  He will take up this post from 18 January 2021.
Lisa Holmes has taken on the role of Deputy Director of Research within the Department of Education, creating the vacancy for Director of the Rees Centre. Lisa will continue to play a key role in the Rees Centre leading major research projects and will continue to be part of the senior management team.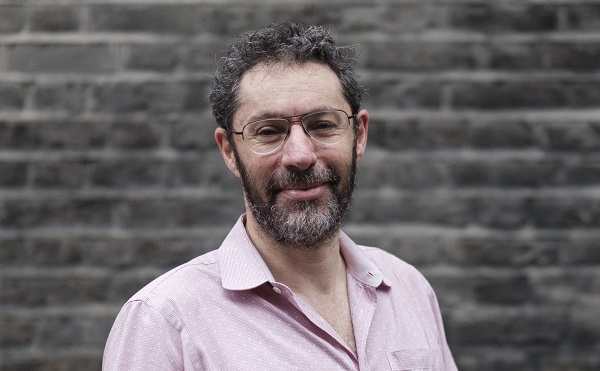 Leon joined the department in October 2019 as Professor of Education and Children's Social Care working in the Rees Centre having had previous roles as Director of Evidence at the Children's Commissioner's Office and at the Early Intervention Foundation. Before that he worked in the civil service for a decade bringing the best evidence and insight to support policy making across social policy issues.
Leon said "I am delighted and honoured to take on the role of Director of the Rees Centre. The Centre is a leading organisation in research about those who are, or have been supported by children's social care. This is a field of policy and practice that faces tremendous challenges but also has great reservoirs of skill and talent. I hope to draw on what I have learnt in other roles to work with some wonderful colleagues to bring the best evidence and knowledge to support families, practitioners and policy makers. Lisa is a tough act to follow and I am delighted she will continue in the Centre, offering stability, leadership and insight." Lisa added/said "This is an exciting change for me personally and for the Rees Centre. I look forward to continuing to work with Leon to develop collaborative research opportunities. I am also looking forward to the new challenges and opportunities associated with the role of Deputy Director of Research in the wider Department."
The Rees Centre is publishing the first working paper from the Alex Timpson Attachment and Trauma Awareness in Schools Programme today, exploring the impact of whole school training in 24 primary schools in England.
Staff in the participating schools received training through their local authority in 2018 or early 2019.  This focused on the difficulties that young people can undergo due to their prior relationships with adults or other traumatic experiences, drawing on the latest research from psychology and neuroscience.
The working paper is based on two online staff surveys collected prior to the training and a year after.  The focus is on the changes that resulted for individuals and schools, as well as on staff perceptions about the impact on vulnerable pupils.  The key findings are:
Attachment and trauma training was well-regarded by school staff across all roles
64% of staff reported resulting changes to their everyday practices working with vulnerable young people
Increased emphasis on the use of language, empathy, trust, safety and wellbeing
'Emotion coaching' emerged as a key practical technique
Two-thirds of schools reviewed their behaviour policies and associated practices following the training
Most staff felt that vulnerable young people had benefited from the changes resulting from the training, especially in terms of wellbeing and enjoyment of school
Positivity about the training was highest among headteachers and other senior leaders – several reported transformational change in their school
The training itself is the start of a vital wider conversation – a necessary, but not sufficient, step towards attachment and trauma awareness in the school
Dr Neil Harrison, who leads the Timpson Programme, says, "Our research plan has been unavoidably affected by the Covid-19 pandemic and so we've taken the decision to publish the findings from data collected prior to lockdown.  This is only a small subset of the schools in the Programme and the findings are therefore tentative at this stage.  We will be publishing additional working papers over the coming six months."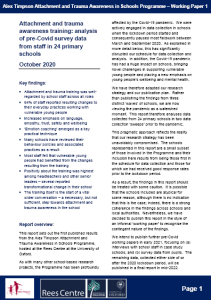 Working Paper 1: Attachment and trauma awareness training: analysis of pre-Covid survey data from staff in 24 primary schools (October 2020)
Dr Neil Harrison, Deputy Director of the Rees Centre
The team in the Department for Education (DfE) that produces statistics on progression to higher education have really upped their game recently.  Starting with a trial last December, they are now publishing an annual digest of statistics looking at a wide range of demographic and educational groups, helpfully including a backwards time series.  The latest of these digests was published a couple of weeks ago and covers the 2018/19 academic year.  Importantly, these statistics are based on linking – at the individual level –  the data collected by universities with that collected by schools and colleges, providing a rich lens to understand inequalities in the system.
Interestingly, one of the groups explored is care leavers.  I have written before about issues with the statistics produced from the data collected by local authorities (the so-called 'SSDA903' data) and the new DfE digest represents a significant step change as it reflects definitive records about who has gone on to higher education, including in further education colleges and private providers.
It's also important to note that the definition of 'care leaver' used is slightly quirky, in that it is not the statutory one.  The definition used for analysis is those children in care continuously for the 12 months up to 31st March in the academic year when they turned 16 (i.e. Year 11 for the vast majority).  In other words, the definition captures only those with a good degree of stability, although they may have changed placements in this time.  It effectively excludes most of those entering care at 14 or 15.
What do the new statistics say?
The statistics in the digest reflect progression to higher education by the age of 19 – i.e. allowing for one 'gap' year after school/college.  There are issues with this that I will return to shortly.  The data focused on English young people, but includes (most) higher education elsewhere in the UK.  For the purposes of this blog post, I've brought together several of the groups covered by the digest into the time series chart below: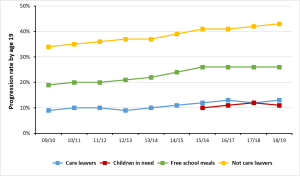 We look first at the blue line representing care leavers.  The progression rate for 2018/19 was 13%.  This is more than double the oft-(mis)quoted 6% figure that comes from the SSDA903 dataset and I am confident this is much more a realistic reflection of the situation.  There has been a pretty steady rise from 9% in 2009/10, with a couple of one year blips, which is also good news.  This fits well with what universities say – I hear many reports of a year-on-year growth in care leavers and other care-experienced students.
However, the yellow line shows the situation for young people who are not care leavers and this starkly demonstrates a persistent inequality – the progression rate for this group was 43% in 2018/19.  If anything, the gap between the blue and yellow lines has widened slightly over the ten years of the time series, from 25 percentage points in 2009/10 to 30 percentage points in 2018/19.  This is worrying, as it suggests that care leavers have not been able to expand their 'share' of higher education at the same rate as other young people.
As I discussed in my 2017 'Moving On Up' report, it is important to remember that there are strong explanatory factors at work and when you compare care leavers with similar demographic and educational profiles, much of this difference disappears.  For example, care leavers are significantly more likely to have special educational needs which impact on their attainment and therefore on their ability to pursue higher education – at least in the short term.  We will almost certainly never be in a position to eliminate the gap, but we should collectively be aiming for these lines to converge over time.
How do care leavers compare to other disadvantaged groups?
The green line represents young people who were eligible for free school meals when they were in Year 11.  There are, once again, issues with this definition and what it means, but this is a useful broad proxy for children who grew up in economically disadvantaged households.  The 2018/19 progression rate for this group was 26% and therefore double that of care leavers.  Again there has been a widening of the gap across the time series, from 10 percentage points to 13 percentage points.
Finally, the red line – for which only four data points are available – represents children designated as being 'in need' on 31st March in the academic year when they turned 16.  Interestingly, the higher education progression rate for this group is actually slightly lower than for the care leaver group – e.g. 11% in 2018/19.
This is consistent with other analysis, including the Rees Centre's recent report (with the University of Bristol) looking at educational outcomes for children in need.  More research is needed to understand this fully, but it suggests that long-term and stable care placements – often, if not always – support progression to higher education in comparison to other young people experiencing profound challenges within their birth family.
Why is looking at progression at age 19 an issue?
All quantitative analysis of social data is driven by definitional issues.  These are rarely neutral or objective – you have to decide what groupings to use, how you determine the boundaries and so on.  As discussed, the new DfE digests use a particular definition of a care leaver – if they used a different definition, the analysis would yield different results.
One decision is about time cut-offs.  This is always tricky.  The longer timeframe you look at, the less reliable the historic data become – if they exist at all.  The DfE's cut-off at the age of 19 is a longstanding one and makes sense for the general population who most commonly progress immediately after school/college or after a gap year.
However, as I've shown elsewhere, this does not hold for care-experienced students.  The social and educational disruption they undergo as a result of their care journeys means that they are often not qualified or ready to pursue higher education at 18 or 19.  In fact, most that do go to university, do so in their 20s or even later in life.  We don't yet know for sure, but it is likely that something like 25-30% of care-experienced people will undertake higher education at some point in their life.
This is still not high enough, but the DfE digest – useful as it is – can only ever be part of the story and the blue and yellow lines would be closer if a longer timeframe were used.
A final note…
It is always important to remember that progression into higher education is only one side of the coin and that there is good evidence that care leavers and other care-experienced students are at greater risk of leaving higher education early.  It would be great to see some official figures from the DfE on this at some point, to help us to understand the scale of the problem.
Contact Neil: neil.harrison@education.ox.ac.uk
By Celine Gross, associate at Social Finance. Part of a series published by the Rees Centre on data (see below for related posts).
As a data scientist focusing on Children's Services, I'll admit that the first things which spring to mind when you mention Annex A and CIN Census are "inconsistent" and "designed for compliance". That said, these datasets hold a wealth of information and my team found a powerful way to use them to provide evidence of the quality of children's journeys through social care. It may also be useful for you.
For those who don't know them, Annex A and CIN Census are children's services datasets created by local authorities. Annex A is a document prepared for Ofsted inspections of children's services departments, listing all events that happened in the last six months (contacts, referrals, child protection plans, etc.) and some information on children looked after (care leavers, adopters, etc.). CIN Census are submitted by local authority children's services annually to the Department for Education and only contain details of children 'in need' (being assessed or under a child plan) from the past fiscal year.
What Works for Children's Social Care provided a grant to the team at Social Finance to facilitate this work. We were also in receipt of grant funding from the Christie Foundation. Both streams of funding allowed us to explore the use of data and how it could be used to identify promising practice. Although the project had some unintended outcomes, we were able to create and share tools such as template Data Processing Agreements which can help other partnerships between Local Authorities (LAs) or between LAs and partners to work together safely and ethically on analysing individual-level data.
From 'events' to 'journeys'
We took the lists of events from Annex A and CIN Census and turned them into 'child journeys'– strings of events concerning the same individual. We did it using Python but you could do the same with R and other programming languages.  This allows us to make journeys themselves the objects of analysis, or to analyse events based on what happens before or after them.
A simple journey, simply expressed looks like this:

With a bit of visualisation, a more complex journey looks like this, over an 18-month timeframe: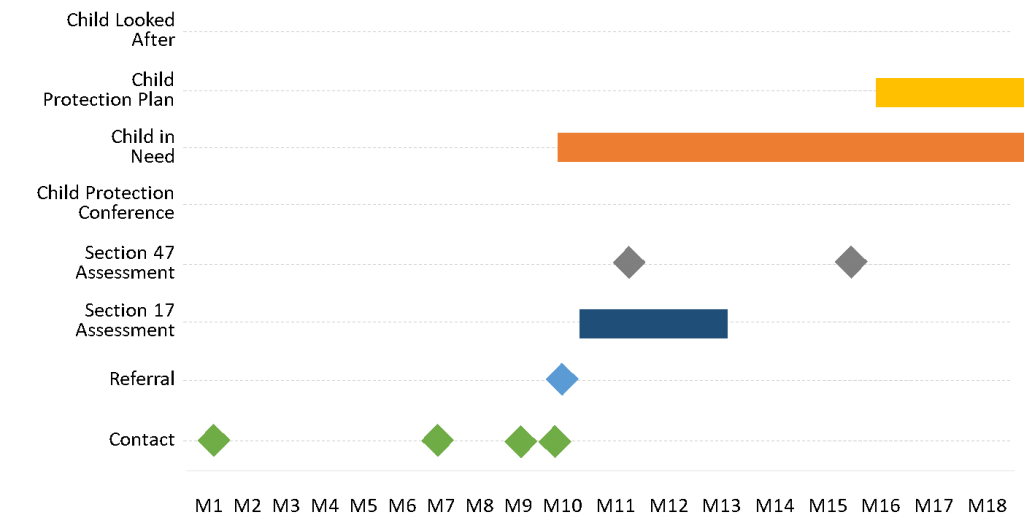 So what?
We found that analysing journeys opened new possibilities for looking at the quality of processes of a system, rather than at their compliance.
Often, this starts with a practice insight: 'X shouldn't generally happen after Y' – allowing us to define an archetypal journey which our local authority partners are interested in, and see how often it is happening, and in what contexts.
One example was when we focussed on 'potentially missed risk at assessment' – a journey where a child's first assessment did not result in a plan (higher-level intervention) but a subsequent referral within 6 months did.
Some numbers jumped out for social care service managers and quality assurance directors:
·         In some local authorities, these 'potentially missed risk' journeys were happening 25% more often with some demographic groups than others, and more often with certain types of risk – identifying opportunities for quality audit and the types of cases first-line managers should review;
·         In some local authorities, they happened more often at the weekends and at busy times of year – putting some numbers on things managers had long suspected to be true.
Many of these patterns were present in some local authorities but not others, highlighting possibilities for sharing of good practice.
Can you use journeys in your work?
These are just a few examples of what journey analysis can do. There are many more interesting journey archetypes and use cases that could turn this journey analysis into better decisions, targeted service improvement work and interesting research. We're hoping to partner with universities and with local authorities to take this forward.
We're keen to share what we learnt. We have started publishing our journey code on GitHub. We're excited to see how it could be improved and how it could be used in local authorities (with around 600 analysts across England), by researchers and by others. We've already benefitted massively from being able to check our interpretations of how the data represents reality with analysts and managers in four local authorities, and we hope that GitHub can become a place to grow that collaboration.
Please feel free to add your own tools as well as to improve the ones we have started. You might also be interested in the code that cleans Annex A according to the Ofsted guidance here.
What Works for Children's Social Care will soon share a report detailing aspirations for the project, what we learned and what we see as possible and useful in this type of work. Please visit their website for details.
There is a growing community of data-minded people, passionate about supporting better decision-making in the children's services space. Let's continue collaborating and building on each other's learning: if you see the potential of child journeys, please get in touch!  And do share your ideas: what tools did you create?
This blog post was written by Celine Gross from the consultancy Social Finance.
Contact Celine: celine.gross@socialfinance.org.uk
It is part of a series of posts published by the Rees Centre on data. The Rees Centre welcomes guest blog posts from professionals across the sector. Views expressed are authors' own and do not represent those of the Centre.
Related Rees Centre blog posts:
Using data tools in local authority children's services
Exploring complexities of children's social care data
Related network:
Children's Social Care Data User Group
The Children's Social Care Data User Group (CSC DUG) was set up in 2017 by the Rees Centre, University of Oxford and Thomas Coram Research Unit, UCL. It is a network of academics, local authority data managers, analysts, charities and funders with a shared vision that administrative data from children's social care and other relevant agencies in England can be analysed and fed back into policy and practice to improve the way that children's social care services respond to children, young people and their families.
The group focuses on data submitted to and analysed by the Department for Education (namely the SSDA 903 children looked after data and the Children in Need Census data).
Membership is open to any individual or organisation who is using, or plans to use, children's social care data collated by the Department for Education (Child in Need data, Looked After Children data or Section 251 social care expenditure data in relation to children's services).
To join the group's mailing list: email rees.centre@education.ox.ac.uk
We are delighted to announce new funding at the Rees Centre from Diverse Care for The Hazel Project research, which builds on our work focused on teenagers in fostering placements.
The first incarnation of the Hazel Project began in the 1970s with the development and introduction of a placement project for adolescents in Kent (1974-1979). This project aimed to arrange foster placements for adolescents thought likely to benefit from a fostering environment. The Hazel Project was developed at a time when fostering for adolescents was not conceived of as a wholly viable option, with residential group care being the dominant placement type and the level of foster family breakdown at a high.
The Hazel Project research at the Rees Centre  – in collaboration with Diverse Care – will explore, contemporarily, the promises and constituents of effective specialist and therapeutic fostering for adolescents. The research will also address re-emerging debates around the professionalisation of fostering and how best to meet the needs of adolescents within the family environment.
Dr Caroline Cresswell, who joined the Rees Centre in April will conduct an extensive systematic review in the area, the findings of which will be disseminated to contribute to persistent debates and the development of policy and practice concerning looked after adolescents. Caroline will be joined by a DPhil student in October 2020, whose research will contribute to the field.
The team at NeuroLove introduce their new online platform, created to help young people stay emotionally and physically well.
This guest post is published by the Rees Centre during the coronavirus pandemic.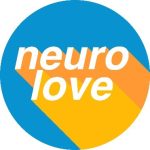 NeuroLove is an interactive website offering mental health support and the opportunity to stay socially connected during the current, very strange times, that we're living in. aim at NeuroLove is to reach out to those who are particularly vulnerable, especially young people with experiences of living in care, but anyone who might be struggling at the moment is welcome to use the website. Reports have highlighted the increased vulnerability of those who have current or underlying mental health issues in the current climate. Social distancing guidelines have made many people feel isolated and low. Staying indoors, hoarding food and increased exposure to the news have increased certain mental health issues like; anxiety, depression and eating disorders. Often meeting up with friends, grabbing a coffee or going to the gym are common ways to cope with negative thoughts and feelings. However, many of these common coping strategies have been restricted at the moment. We hope that people will think of NeuroLove as a virtual friend, offering positive ideas to make these times feel a little less lonely.
We've incorporated live classes and mentor sessions to bring real-world connection to an online platform. Young people can join our live sessions, learning a range of skills from baking the perfect (budget friendly) cupcake, to learning how to create video games, plus live classes to help with sleep, anxiety or low mood. If a young person wants to talk to a real person then our amazing Social Therapy team are on hand to listen and offer support. Our Social Therapists are trained to give confidential support around issues that young people often experience. NeuroLove could potentially be a vital platform for those alienated at this time.
If live sessions don't fit with someone's routine, they can look at the activity resource pages, where young people can take a walk around a museum, listen to podcast or make a positivity jar. By offering a selection of relevant apps, we hope to make life at home during COVID-19 crises a little more manageable.
NeuroLove was created by a diverse and incredibly dedicated team, including those who have shared similar experiences to young people living in care. Crucially, in creating the platform we had the involvement of a team of young people who helped us to shape the support offered. Complex issues that are often poorly understood were addressed by staff who had first hand experiences of these issues. We hope this brings a truthful view to mental health and leads to more effective support.
More information:
Digital solution to support youngsters in care during Covid-19
Digital Innovations tested to support vulnerable people during Covid-19 outbreak
This guest blog post is written by Shaunna Devine of the NeuroLove team. Contact Shaunna
Published by the Rees Centre during the coronavirus pandemic.
The team behind the Oxfordshire Kindness Wave explain how the idea of a kindness parcel was born, each containing a message of hope, creativity for comfort, kindness with chocolate and a specially made heart for love.
This guest post is published by the Rees Centre during the coronavirus pandemic.
This act of kindness started four weeks ago from a conversation with two campaigners, Maxine Sloss and Laura Beveridge, who champion creativity, equal rights for every child and young person. Their common belief is that all young people deserve the right to grow into adulthood with confidence, feeling happy and with a sense of belonging and love.  Maxine and Laura, who both live and work in Edinburgh, met just a few weeks ago for the very first time (physically distanced of course). They began developing and facilitating a response to the pandemic, aiming to reach out to children, young people and families.   The idea of The Kindness Wave was born.
The Kindness Wave was formed with four key components: hope, love, comfort and kindness.  Studio LR designed the branding based on drawings by Laura's 13-year-old sister and 7-year-old daughter. Each colour represents the favourite colours of four Kindness Wave writers who were the first to receive the parcels!  This was truly a collective creation.  Our logo symbolises hope, love, comfort and kindness that keeps the children and young people in mind.
Whilst we are all going through the Covid19 pandemic, our belief is that each parcel will contain a message of hope, creativity for comfort, kindness with chocolate and a specially made heart for love.
''Loved my Creative parcel I had something fun to do at home and just to be connected to my local community is everything'' 15 year old young person.
As a Co-founder of Scotland's Kindness Wave I worked alongside a collective of creatives, educators, youth workers, writers to set up our community of parcel makers here in Oxfordshire.  The idea developed and we are now in partnership with Ark T, Alex Timpson Trust, Oxfordshire Virtual School, Oxford Hub, Oxford City Council, Cultural Education Partnership Arts Work and Populate Co-op.  We are sending out creative parcels to our young people and aim to celebrate their creativity and resilience through our website.  Local and national artists, writers and students are creating conversations and challenges that give young people much needed comfort and distraction, and provide opportunities to create happy moments during this challenging time.
Oxford and Edinburgh are two cities far apart. However, through this pandemic we have created a bond to support our children and young people with love, kindness, hope and comfort. We hope they can see the true power that they have.  One truth is that we all are vulnerable right now, all of us are having our resilience tested and some more than others will experience adversity.
What matters right now is that we are all in this together, and have an opportunity to connect.  It is important to note that all of the products in our parcels are locally sourced, many items handmade and created by creatives in our local communities.
More info
Written by George O'Shaughnessey on behalf of the team behind The Kindness Wave. Contact George.
This guest post is published by the Rees Centre during the coronavirus pandemic.