This article was first published on The Conversation on 2 March 2020.
Authors: Carolyn MacCann (University of Sydney), Amirali Min bashian (UNSW), Kit Double (University of Oxford)
This article was first published on The Conversation on 24 February 2020.
Authors: Xin Xu (ESRC Postdoctoral Research Fellow, Centre for Global Higher Education, Department of Education)
Neil Harrison of the Rees Centre explains more about the work and recommendations of the 'Positive Impact?' report, published last week, exploring the factors affecting access, retention and graduate outcomes for university students with a background of care or family estrangement.
Commissioned by the Unite Foundation, the report resulted from a collaboration between the Rees Centre, the University of Leeds, Sheffield Hallam University and StandAlone (a charity representing the interests of estranged students).
We were charged by the funders to maintain a tight focus on how the organisations surrounding students – the universities and colleges, but also national governments, local authorities and others – can improve the support that they offer. In order to achieve this, we gathered data from 128 staff working in higher education and 47 care-experienced and estranged students from across England and Scotland.
While previous reports have captured important elements of the student experience, this is the first to engage extensively with those working to support them. In all, the report makes 28 recommendations for improvements in policy and practice, covering outreach work, access to accommodation, mentoring, staff training, mental health support and other elements vital to student success.
The Rees Centre's particular contribution to the report was around pathways out of undergraduate programmes and into graduate employment or further study. As part of this, we analysed national data about care-experienced and other students completing their degrees in 2016/17 – this forms Annex 2 of the report and we have blogged about the findings before.
To recap quickly, care-experienced students do slightly less well than their peers in terms of graduate outcomes, but this difference disappears once you take into account a range of background factors. They are slightly more likely than average to go on to postgraduate study. However, there were also groups of care-experienced students whose outcomes were significantly below the average, including those with lower degree results and some minority ethnic groups.
There is, therefore, no room for complacency around this part of the student lifecycle and several of the report's recommendations touch on the need for carefully targeted needs-based support for care-experienced and estranged students through the career process. In particular, higher education institutions should:
develop 'student lifecycle' approaches to support; this includes proactively and regularly providing information and guidance on careers and providing final year bursaries to ensure students are not disadvantaged in applying for jobs and transitioning into work;
extend 52-week accommodation for students in their final year so they are supported in making the transition into employment or further study;
set up and facilitate alumni networks; this may include the development of regional networks of alumni support;
develop targeted bursaries for postgraduate study; and,
extend funding for outreach work to focus specifically on adult learners, recognising the longer trajectories into higher education. This requires intensive work with adult learners over the long term with key stakeholders such as adult education centres, refugee support organisations or organisations helping adults transition into work or study.
So, the story is positive as it appears that most care-experienced students are already able to secure a positive outcome once they graduate – although it may not necessarily be the one that they would prefer. In any case, there is still a lot more to do to support those who have more difficulty due to the particular challenges they face or the continuing legacy of their childhood experiences. We look forward to talking more about the report in the coming months – particularly with policymakers such as the Department for Education and the Office for Students.
Neil Harrison, Associate Professor and Deputy Director of the Rees Centre
Contact Neil: neil.harrison@education.ox.ac.uk
By Aneesha Wadhwa, Executive Director, Udayan Care India and Chevening Fellow, Dept of Politics and International Relations, University of Oxford.
The International Care Leavers Convention in India 2020 is a path breaking, first of its kind in the country. Being organized by Udayan Care, SOS Children's Villages, and University of Hildesheim in collaboration with the Amity University, the Convention aims to provide Care Leavers (young people who have left alternative care to return to families or transition to independent living) with a platform to learn, share and exchange their experiences, knowledge and challenges, as a first step to be able to amplify their voices. It is a unique opportunity to collectivize Care Leavers at the transnational level as the insight provided by these young leaders can effectively reform our care systems.  It aims to bring together representation from existing networks and care leavers from different parts of India and the world, especially in regions such as Europe, Africa and Asia.
Registrations (by 31 Jan 2020) :http://www.careleaversconvention.udayancare.in/index.php/register/. 
In August 2019, Udayan Care published a set of first of its kind seminal research reports on youth leaving care, based on research conducted in five states of India (Delhi, Gujarat, Karnataka, Maharashtra and Rajasthan), as well as an overall synthesis report. Supported by various State governments, UNICEF, Tata Trusts and other individual donors, the reports detail and very clearly present thorough analyses of the experiences of young people leaving care in India, illustrating it through an ideological framework called the 'Sphere of Aftercare'.
The study is evidence of the fact that growing up in Childrens Homes in India has an adverse impact on Care Leavers' education, skills and social stability and hence does not prepare them for transition into adulthood. It reinforces the fact that transitioning out of care leads to re-traumatization of youth, who have already faced the trauma and multiple adverse childhood experiences. Constraints exists in the form of deficits at the level of information, access, investments, skills, knowledge and training on transition planning, notably with female Care Leavers experiencing greater disadvantage.
Along with the law, policy and promising practices, the report also comprehensively charts the pathway for Care Leavers in India in the form of recommendations to various duty bearers at different levels.  As the national movement in India strengthens to keep children in families and reduce the reliance on institutional care, it is hoped that non-institutional family and community based Alternative Care options will expand and the demand for mechanisms on the ground will gain more momentum. This movement has to always keep in mind the needs of Care Leavers and address them in more robust manner, ensuring that the young Care Leavers can become resilient contributing citizens of the country and an asset to the juvenile justice system.
Further Information
Email: Contact Aneesha
The Rees Centre welcomes guest blog posts from professionals across the sector. Views expressed are the authors' own and do not represent those of the Rees Centre.
Sarah Wilkinson talks about findings from a project that sheds light on the local offer for care leavers. The findings of the project – carried out by the National Leaving Care Benchmarking Forum (NLCBF) – will be of interest to practitioners, policymakers and anyone with an interest in improving outcomes for care leavers.
This post is part of the Rees Centre blog. We welcome guest posts from across the sector. Views expressed are those of the author.
What is the local offer for care leavers?
Since the Children and Social Work Act (2017), local authorities have been required to develop a local offer for care leavers in partnership with young people. The local offer should inform care leavers about all the support and services available to them. It should cover all statutory entitlements, but also include discretionary support that local authorities – as corporate parents – offer to their care leavers. This could include things like paying for Wi-Fi or taking young people out for a meal to celebrate achievements or birthdays.
The guidance states the local offer should include six main areas: health and wellbeing; relationships; education and training; employment; accommodation and participation in society. Our members wanted to learn from each other and understand more about what areas of additional support were commonly included within local offers, as well as less common areas of support.
What did the project involve?
The project aimed to share positive practice examples and produce a resource that would help local authorities review and improve their offers for care leavers. We carried out a survey with members, a systematic mapping of 20 local offers, discussions with the Young Peoples' Benchmarking Forum (YPBMF) Champions and interviews with representatives from member local authorities. The work resulted in a report and accompanying analysis – which we launched in November 2019.
Local offer as a vehicle for engaging wider corporate family
While the local offer is just one part of the work that local authorities do to support care leavers; it's a pivotal opportunity and provides further impetus to engage partners and wider corporate parents to ask what more they can do. The local authorities who had most success in securing offers – such as discounted water bills, offers in local restaurants, job opportunities and more – were the ones that had used the local offer to open up conversations with local partners, businesses and the wider council.
What's going well?
We found a huge amount of work had been done by LAs (often in partnership with young people) to develop meaningful and in some cases, ambitious offers for care leavers. Some of our key findings relating to positive impact of the local offer include:
Positive engagement – of young people leading the offer
Bringing information together – the opportunity to consolidate information for young people for the first time
A whole council approach – a renewed focus on 'corporate parenting' and sharing responsibility and ambition for care leavers beyond children's services
Better services for young people – local authorities had brokered new opportunities for young people as a direct result of developing the local offer
Work still to be done
While we found examples of fantastic practice, we also took away some key areas to focus work on improving. These included:
Postcode Lottery – addressing the variation between local authorities in the additional support they offered care leavers
Accessibility – reviewing the format and accessibility of the local offer, making sure that the offer really covers all care leavers
Awareness – there is still work to do to disseminate and review the offer to make sure that leaving care staff, partners and young people know about it
What next?
In the same way that parents would strive to do whatever they could do support their children flourish, corporate parents are committed reviewing and improving their local offers for care leavers.
At NLCBF, we're committed to supporting local authorities and young people to help improve services for care leavers at the local level, and also use our relationships with national policy makers and partners to take forward the recommendations from this work.
As Joe Shaw, one of our Young People's Benchmarking Forum Champions, who authored a foreword in the report said:
"From what I've seen, local offers are looking good. Exemption for council tax, paying for young people's passports, driving licence and driving lessons and in some places like Wigan, paying for prescriptions. These things set young people up to succeed.
My advice to local authorities is to work with young people to continue to improve the offer"
Sarah Wilkinson, Care Leavers Impact Lead for Catch22's National Leaving Care Benchmarking Forum
The report was produced by the NLCBF and authored by Sarah Wilkinson and Dr Claire Baker with Lisa Holland.
To discuss the findings of the report, contact nlcbf@catch-22.org.uk
The Rees Centre welcomes guest blog posts from professionals across the sector. Views expressed are the authors' own and do not represent those of the Rees Centre.
This paper, written by Richard Pring and published in The Oxford Magazine, commemorates the centenary of the University Statute which established the Department of Educational Studies at the University of Oxford in 1919, revealing the gradual evolution (following a reluctant start) of a unique relationship between the University, Department of Education, Local Education Authority and schools. This created a model for teacher training, professional development and research of universal significance, which eventually saw the launch of the Oxford Review of Education.
Emergence of interest in teacher training
The birth and evolution of the Department of Education at the University of Oxford provides insight into the changing attitudes of the University itself to its cultural involvement with the wider community and indeed to its contribution to Government policy. There was an original reluctance of the University to be involved in teacher education, for teaching did not have the professional status enjoyed by law or medicine. Indeed, Mr. Raleigh of All Souls explained to the Bryce Royal Commission of 1895 (established to review the provision of secondary education):
'It is not the office of the University to train men (sic) for teaching or for any other profession … his special training must be left to those who are engaged in the professional work … Almost any honours man will make a good teacher, if he is conscientious, and if he has the luck to fall into the hands of a good head teacher.'
But Mr. Raleigh did admit reluctantly (no doubt believing that academic respectability would be eroded through the pursuit of professional relevance) that we might of course (one day) have a Professor of Education. However, Oxford works slowly and it took almost one hundred years before one arrived.
But that was evidence presented to a Royal Commission on secondary education only. Already, since 1892, the University had opened (under the Non-Collegiate Delegacy) a Day Training College for elementary school teachers at No.19 Holywell Street where they were able to gain a teachers' certificate and take an external degree–part, one might think, of the wishes of the University (much influenced by the social philosophy and social activity of the philosopher T.H.Green of Balliol College) to contribute to the wider community. In the first year, there was an excellent staff-student ratio with three lecturers providing courses for one student, who, however, only got a third class honours in jurisprudence.
However, some did shine academically despite their humble beginnings. Fred Clarke (eventually knighted), who had been a pupil-teacher at Oxford's St. Ebbes Elementary School, joined the Elementary Training College in 1899, was given the opportunity to study for a degree, and in 1903 gained a First Class in history along with his teacher's certificate, thereby showing that this new avenue to the University which had been opened up, need not necessarily create (in the words of the Dean of Christ Church) a 'danger of an academic proletariate'. Later Fred Clarke became Professor of Education at Cape Town University, then Director of the London Day Training College which later became the University of London Institute of Education.
Following the Bryce Report (and the 1902 Education Act which gave local authorities the right to establish and maintain secondary schools), the University responded by introducing, in 1902, training for secondary schools and for that purpose established a Department for Educational Studies, created a Readership with a Fellowship at Jesus College, and moved to rented rooms at No. 22 St. John Street. In 1919 a statute was passed creating a University Department for the Training of Teachers under a Director. It was eventually located in its present site in Norham Gardens in 1923.
Four years later, a student (no doubt known to some readers of the Oxford Magazine) joined the Department, having gained a First Class Honours degree in History whilst at St. Hugh's College. Dr. Marjorie Reeves, who became a founding Fellow of St. Anne's College, went on to teach the history of hairdressing to the Elementary School girls of Tower Hamlets, and her excellent You and Yours series of history books brought historical events alive for many decades to young learners who had no academic aspirations. Dr. Reeves was invited to membership of the Central Advisory Council for Education (England) in 1947. When asked what was the main duty of a member of that Council, the Permanent Secretary of the Ministry of Education replied: 'to be prepared to  die at the first ditch as soon as politicians try to get their hands on education'. Oh, if only Marjorie (who died in the late 1990s) were alive today!
The Department had been established to prepare teachers for Elementary and Secondary Schools–to help bring the cultural resources of the University to the schools. This professional emphasis remained of crucial importance. Research was not its central purpose, although works of scholarship were produced and certainly the department gained an international reputation for pioneering studies in Comparative and International Education under Dr. W.D.Halls. But hardly anyone now knows that the International Baccalauriate (IBacc) was created within the Department by the then Director, Alec Peterson, appointed Director in 1964. The Department therefore became closely involved in the Geneva-based project to research the feasibility of the IBacc. That reputation for International and Comparative Education, established by Halls and exemplified by Peterson, was subsequently enhanced by Halls' successor, Professor David Phillips who created an internationally renowned Masters Course and Doctoral Programme.
Another former student, who may be remembered by some readers and worthy of mention, was Harold Loukes– a graduate of Oxford (1st class degree in English in 1934 and student of Jesus College) and member of the Department from 1949 to his death in 1980–the last 30 of those years as Reader. In between being a student and his appointment in the Department, he had taught in New Delhi for ten years and been head teacher of the New School in Darjeeling. His writings on religious and moral education, in particular through the journal Learning for Living, which he edited from 1961 to 1964, and his contributions to the British Journal of Religious Education, drew upon his Quaker model of Christian nurture for schools' religious education and exerted wide influence in moral and religious education. His paper 'Morality and the Education of the Teacher' is an excellent example of the emerging influence of the Department in the professional concerns of schools through its newly established journal – the Oxford Review of Education (1976, Volume 2 Part 2).
Linking professional training and research
One can see the germs of subsequent developments in the ideals expressed by the then Director, Harry Judge, in the Report referred to the General Board in 1974–an ideal to be cherished now and for the future–concerning the reform of the Department, much needed if it were to be both professionally relevant and academically distinguished:
'That reform should be marked by a new relationship between the Department and the University which has absentmindedly created it, a partnership between the Department and the schools and the local education authority in which it is geographically set, a reconstructed course for the year of postgraduate teacher training, a redefined balance between work for teachers before their careers begin and work with them during their careers, and a new approach (already commended to the Franks Commission) to the organisation of educational research in Oxford.'
That professional emphasis (namely, providing the very best professional preparation for teaching by drawing upon the relevant academic and research traditions of the University) was uniquely embodied in the late 1970s and 1980s, on the one hand, in the Oxford Internship Scheme, and, on the other, in the Oxford Education Research Group which brought together the research interests and achievements within the wider University relevant to educational thinking. It is important to enlarge on both these two developments.
Oxford Internship Scheme
Dr. Harry Judge was Director of the Department from 1977 to 1989. He had previously been Headteacher of Banbury School, one of the largest comprehensives in the country. He and Tim Brighouse (now knighted), who was Chief Education Officer for Oxfordshire, developed the unique partnership between the Local Education Authority, its secondary schools and the University department. The Internship Scheme embraced all the LEA's Secondary Schools, whereby eight to ten trainees (Interns) would be allocated to each school, two per subject. Therefore, with such a large intake of interns, each school became in effect a training school (anticipating by 30 years a Government proposal for such), with a Professional Tutor organising the school contribution to the General Progamme of broad issues affecting learning, and a member of the Department (General Tutor) responsible for the University contribution, liaising with the Professional Tutor and jointly chairing the weekly school-based seminars of the General Programme. Each and every member of the Department (including the Director) was thereby attached to a school and worked in the school each week–no theory which was not disciplined by experience and practical engagement!
Furthermore, the Curriculum Tutor of each subject within the Department would liaise with the subject specialist (Mentor) within the school in conducting co-operatively the curriculum and classroom practice aspect of the training. There would be subject-based professional development for all the Mentors each term in the Department. Therefore, the initial teacher training ('Internship') became integrated with the professional development programme for teachers within the schools, and indeed was recognised as such both practically and financially by the LEA in its responsibility for teachers' professional development. Together the Department and the teachers prepared booklets for work in the schools with special needs children.
It is a reflection on the ignorance of politicans, who take on the responsibilities of education, that Secretary of State, Kenneth Clarke, in planning in 1992 to place all teacher trainers in the schools, indicated no knowledge of this close and unique partnership between University, Local Education Authority, schools and teachers, which had been pioneered in Oxford and which integrated initial training, professional development and relevant research. The concern by headteachers of Oxfordshire, the University and the local authority were clearly expressed in a lengthy article in The Times (10th February 1992)–sub-titled 'A genuine partnership in teacher training cannot be created on the orders of Whitehall mandarins'. The article demonstrated the real and possibly unique relationship between a university and schools –one in which there were shared values, shared interest in research, shared selection of schools, departments and mentors within those schools.
Such examples illustrate the faithfulness of the Department over its many decades to the reasons for its establishment and for the University's interest in having such a Department, namely, to draw upon the resources and academic culture of the University to enrich the preparation of teachers for the schools. Indeed, I was told by one Vice-Chancellor that the Educational Studies Department was the most important one in the University because, without the sound preparation of teachers for our secondary schools, the quality of students coming up to University would suffer. It was in the interest of the University to support that professional preparation of teachers as one of its central missions. However, such arrangements (an essential feature being the close partnership with local comprehensive schools and thus the commitment to 'the common school') had to withstand considerable political opposition. According to The Times (Sept., 1993):
'John Patten, the Education Secretary, threatened yesterday to halt teacher training courses at universities that refuse to send their students to independent schools … Mr Patten refused to name the institutions concerned, but headmasters said Oxford University's education department was the worst offender. … The university turned down an approach from Eton College two years ago …. Arthur Hearnden, general secretary of the Independent Schools Joint Council, said later that Oxford was well known for refusing to co-operate with independent schools. Vivien Anthony, the secretary of the Headmaster' Conference, said: Our relations with Oxford have always been totally appalling.'
Research
The Internship generated a research programme, pioneered by the Reader, Donald McIntyre (later to become Professor and Director of Education at the University of Cambridge) on teachers' classroom knowledge which helped to conceptualise the Internship Partnership. It provided the context for a research programme and research training for tutors in the Department, who had been appointed from schools for their excellent classroom practice but who lacked the necessary research training and research degrees. Their work, under the supervision of Donald McIntyre, covered a range of issues highly relevant to classroom practices and to the interns' learning (for example, Linda Haggarty on the relation between curriculum tutor in OUDES and mentors working in the schools as they implemented the internship scheme; Hazel Hagger on school based teacher training; Chris Davies on the relationship between secondary English teachers' ideologies and classroom practice; and Anna Pendry on the process of developing the internship model with specific reference to the role of co-ordinator). These became the 'McIntyre team' working with the teachers in the Internship Schools, thereby creating the distinctive university-LEA-schools research based professional practice. Thus was built up a distinctive and important research tradition which, in co-operation with the schools, related to classroom practice. This was all reported in the research report, funded by the Gukbenkian Foundation and edited by Peter Benton, 'The Oxford Internship Scheme: Integration and Partnership in Initial Teacher Training'.
Therefore, the Internship Scheme was a unique contribution to the initial and professional education and training of teachers which became influential both in Britain and abroad. But there were national changes affecting universities generally and the professional preparation of teachers in particular. There had just been the first round of the Research Assessment Exercise (RAE). The future of the Department would depend as much on its research assessment and place in the national research league tables as it would in the Ofsted reports on its teacher training. Research projects came to be funded in the teaching of science (led by Brian Woolnough, Mike Summers and Joan Solomon), and the 'Geography, Schools and Industry Project' led by Graham Corney But new appointments needed to be made and research centres established, the most significant and long enduring one being that of the Early Years Centre under Professor Kathy Sylva (who succeeded Donald McIntyre as Reader, based at Jesus College). This (still continuing research centre) had a major influence on Government policy in its establishment of Early Years Centres throughout the country.
However, it was seen to be important both within the Department and the wider University, which had supported the creation and development of educational studies, that the professional development of teachers should be informed and enlightened by 'a new relationship between the Department and the University'. The Director, Dr. Harry Judge, had formed in 1975 the Oxford Education Research Group (OERG) with membership from relevant faculties of the University, the LEA and local schools. Members from the University included such nationally renowned academics as A.L.Halsey (Professor of Social Policy), Peter Bryant (Professor of Psychology), Jerome Bruner (Visiting Professor of Psychology from Harvard University), David Hargreaves (Reader within the Department and later Professor of Education at Cambridge University), Richard Hare (Professor of Philosophy), Anthony Heath (Fellow of Nuffield College, later to be given a Chair in Sociology); and John Wilson, member of the Department and a national leader in philosophy of education.
However, it was felt, following the recent and first Research Assessment Exercise, that for the Department to advance further there was a need for the appointment of a social scientist whose insight into the relevant research in sociology would enhance research in this broad area and enable the PGCE students, as required by a Government Circular (DES, 3/84):
'to be prepared through their general education studies to take account of pupils' diversity of ability, behaviour, social background, gender, ethnic and cultural origin.'
Eventually Geoffrey Walford was appointed to meet the Department's proposal–20 years after such an appointment in social science had been put forward to the General Board by Professor Michael Brock, President of Nuffield College, for a Chair in Education, Training and Work because he had argued that it is extremely difficult to judge how the education system relates to the world of work if it is not to be led by a distinguished social scientist.
Governance and administration
In the gradual transformation of educational studies, the University administration was incredibly supportive, and it is important to reflect on how this could have been the case in such a large University with so many prestigious departments. Therefore, it is worth reflecting on those aspects of University governance, now much changed in a more centralised system, which were so supportive and effective.
The key academic committee of the University was the General Board to which the different Faculty Boards reported. Membership of General Board was by election from members of Congregation, but drawn from all Faculties. Their term of office was for a limited period. The Chair (selected from within the Board) was therefore in a powerful position within the University – except that his or her term of office lasted only two years. It is important to understand this balance of power and the democratic nature of its operation in order to appreciate the governance of the Department in these early days of its development. The General Board met every Friday, key business affecting academic life of the University thereby being dealt with very speedily.
Although the academic life of the University operated in the main through Faculty Boards of the different 'Honours Schools', there were exceptions where Diploma courses were developed outside the Honours Schools. Educational Studies (until 1989, mainly concerned with the Post-Graduate Certificate of Education) was one such exception. In such cases a Committee of the General Board would take responsibility for academic oversight, finances and staffing of the Department. The Committee for Educational Studies (CES), with well established academics from different faculties as well as members from the Department, would be advocates for the Department, though subjecting proposals, intended for the General Board, to critical scrutiny and comment before they went. Decisions on matters of importance to the Department (for example, on staff appointments) were speedily and sympathetically dealt with.
But the situation began to change. As the governance of the University moved into Divisions, so the General Board was abolished and the Department became a member of the Social Science Division, sitting alongside the newly established Said Business School. Pressure to score top grades in the then RAE and later the REF (Research Excellence Framework) grew. Fortunately the Department survived with honour, but it had become a very different University from the one during its early growth.
Bringing educational thinking and academia together: Oxford Review of Education
In 1974, the Oxford Review of Education was launched– the initiative of Harry Judge as Director of the Department of Educational Studies. Its declared object was:
'To advance the study of education …to provide the elaboration and evaluation of a body of speculative and empirical theory, the development of which might improve practice and help to establish education more firmly as a legitimate field of academic enquiry …The editorial board seeks to provide a common form and, on occasions, a focal point of controversy for the discussion of research findings, of historical and contemporary issues and of the functioning of educational institutions, for specialists both in the disciplines mentioned and within educational systems.'
The Editorial Board created to undertake such objectives was selected mainly from the wider University (including the members of OERG) who were internationally renowned within their academic areas and who, from their academic interests, had a contribution to make to educational thinking more generally. The Board was chaired by Sir Alan Bullock, Master of St. Catherine's College and later to produce in 1975 the influential report Language for Life. The Board included Professors Michael Brock (Vice-President of Wolfson College), Jerome Bruner (Watts Professor of Psychology), the University's Registrar (Geoffrey Caston), Sir Frederick Dainton (Chair of University Grants Committee), P. Freedman (Professor of Social Anthropology), Margaret Gowing (Professor of the History of Science), A.H.Halsey (Fellow of Nuffield College), Richard Hare (Whites Professor of Philosophy), R. Harre (Fellow of Lincacre College), Michael Kaser (Fellow of St. Antony's), Lord Redcliffe-Maud (Master of University College) and Sir George Pickering (former Master of Pembroke College).
This, then, reflects the wider University interest in and contribution to the professional and academic development of educational studies, far removed from the reluctance of the University to accept education as a legitimate area for academic study over half a century earlier. Such an interest was exemplified in Volume 1 of the Oxford Review by papers from Mary Warnock, A.H. Halsey, A.H.Eysenck and Sir Alan Bullock on the concept of 'equality in education' and its relevance to educational reform.
It is interesting to note how little these well-argued papers by distinguished scholars from within the University depended on references and footnotes–none from Warnock or Coleman. How different that is from papers published today where the average number of references is over 50, thereby improving the 'impact factor' which was unheard of in 1975.
Thus 'educational studies' has come a long way, now embraced as a respectable part of the University's academic purposes, since its reluctant inception a century ago. News just in confirms 'excellence' in every aspect of its teacher training, which sits comfortably with the continuation of top grades in the Research Excellence Framework.
By Jean Mallo, Performance Manager, Children's Services Performance Team, Wandsworth Borough Council and co-chair of LIEG (London Information Exchange Group).
This post is part of a series published by the Rees Centre on data (see below for related posts).
The five structural and formatting barriers to turning numbers into intelligence, or Data to Insight. 
Local authority resources are dwindling. There is an increased demand on children's services to make better and quicker decisions to ensure that the right action is taken promptly to improve the lives of children and families. As a result, there is a renewed pressure on performance teams to turn numbers into intelligence, or Data to Insight.
Each manual step taken to manipulate data into a usable structure and format before analysis can result in human error. More critically it leads to duplicated effort in 151 local authorities across England. To put this into perspective, if a table of published data requires just 5 minutes of manual preparation, then almost two days' of an analyst post across England was spent on formatting rather than on understanding or learning.
The five most common types of structural and formatting problems taking up analysts' time:
Hidden or blank rows and columns
What you see is not what you get. Copying what appears to be a simple five-by-five table results in a messy muddle that requires manual deletion of rows and/or columns and unmerging cells before it can be used in reports or used as underlying data for analysis.
Numbers and dates stored as text or strings
For a number or a date to become insight it needs to be understood in the wider context. For example – is the number high or low, is there an upward trend or a decline, what is the duration between the two dates? Numbers and dates reported as text or string need to be changed before these questions can be answered.
Dealing with missing data
Turning what appears to be 'no data' into genuine 'no data' can be a time-consuming task – a space may take the place of what appears to be an empty cell, or it may be filled with a letter or a symbol.  The rules change from one source to another, sometimes even within the same organisation or publication.
Machine readable is not always human readable
On the one hand, the 'tidy data format' is an analyst's dream for converting numbers into tables and visualisations using the latest software and technology. On the other, the standard table format is easy to read and understand not only by local authority analysts but also by the public.
Inconsistencies between publications
Regardless of the format or structure chosen by an organisation, the one thing that carries the most weight is the consistency between publications. The children's social care sector has developed its own data warehouses and analysis tools. Each time the structures and formats change, this is a further burden on local authorities to rewrite the code to manipulate the data back into the required structure.
The first three barriers have been solved in other fields and their solutions are starting to attract the attention of children's services. There are common standards on how data should be defined, organised and described, and the access of information through Application Programming Interfaces (APIs) proves to be more consistent than spreadsheets. We know that the Department of Education (DfE) are looking at both solutions, although children's social care data appears to be behind education data in the queue for improvements. Whilst we wait for these to be implemented, there could be merit in developing and sharing scripts that normalise data to help with the automation of cleaning up issues such as inconsistent approaches to dates and missing data.
By contrast, inconsistencies between publications feels like a challenge to be met with intelligent and inclusive partnership working rather than technology. Increasingly, we see organisations who provide data or define data standards, such as the DfE and Ofsted, starting to recognise that seemingly minor decisions about how to label and organise data can have very significant impacts for local government. We have seen an openness to involve children's services in those decisions to show them how best to help us, and to work collaboratively. Formalising and expanding those arrangements could open the possibility of saving substantial amounts of time for local government staff, and also enable a new generation of analytical tools to be built upon more predictable and comparable data.
The improvements in technology and partnership working continue to drive the change to centralised data manipulation, the benefit of this is that children's services can focus on providing valuable and insightful local analysis that makes a real difference to the decisions of children's services in their area.
Jean Mallo, Performance Manager Children's Services Performance Team Wandsworth Borough Council and co-chair of LIEG (London Information Exchange Group)
This post is part of a series published by the Rees Centre on data. The Rees Centre welcomes guest blog posts from professionals across the sector. Views expressed are the authors' own and do not represent those of the Rees Centre.
Related posts:
Using data tools in local authorities children's services 
Exploring the complexities of children's social care data
By Sam Turner from Become, the charity for children in care and young care leavers
This month, we released our manifesto – A system that cares ­– which outlines our key asks of the next government to support care-experienced children and young people.
We're calling for all of the main political parties to commit to a comprehensive independent review of the care system which listens to those with lived experience, to focus on the continuity of relationships and stability for all children, and to ensure all care-experienced young people can access the mental health support they need to heal and thrive.
However, change isn't only required within the care system itself.
Young people's experiences in education can have a huge impact on their ability to manage the difficulties which arise from experiences of trauma and the instability of life in care. For some children, school might be a place of support and sanctuary, but for others, their experience in the classroom might act to compound the difficulties they face outside of the school gates.
Training and support – Every young person in care deserves a place in an inclusive school which welcomes them, addresses their needs and works closely with children's services and Virtual School teams so they are well supported to pursue education and realise their aspirations.  
Within our manifesto, we highlight our concerns about the increasing use of 'zero tolerance' behaviour policies on pupils who have experienced childhood adversity. The work of the Rees Centre and others in exploring teacher training in attachment and trauma awareness demonstrates the value of this approach in improving wellbeing and learning outcomes for whole cohorts, not just those with experience of care.
Our own Teachers Who Care report released last year highlighted a significant training gap in the needs of children in care: 87% of respondents received no training about looked after children before they qualified as a teacher. We want to see mandatory pre-qualification and continued training for all teachers which emphasises a compassionate understanding of childhood trauma and the impacts of care on learning and behaviour.
Admissions and exclusions – We are also calling for a revised School Admissions Code which ensures children in care are not denied a place in the school which is best for them. The current Code acknowledges that a local authority "has no power to direct" an Academy school to admit a looked after child.
A parliamentary question from Emma Lewell-Buck last year highlighted that 28 appeals had been made by local authorities after a refusal by an Academy from March 2017 – May 2018, and the Secretary of State was forced to provide formal direction four times to ensure a child in care was given the place they deserve. Academy and free schools now make up 75% of secondary schools and must be required to follow the same rules as local authority-maintained schools.
In addition, we want to see new initiatives which bring together local authority and school staff to prevent the growing use of fixed-term exclusions with children in care. As identified in the recent Timpson review, looked after children are more than five times more likely to have a fixed-term exclusion than all children. Repeated time away from the classroom impacts not only on children's attainment, but their emotional wellbeing, sense of identity and belonging.
We look forward to working alongside the Rees Centre and others to ensure the next government makes a commitment to improving educational experiences of all children in care. Not all challenges can be solved in a classroom, but creating a caring and supportive school environment for all pupils must be a top priority for whoever comes out ahead on December 12th.
Sam Turner, Voice and Influencing Manager, Become
Contact Sam: Sam.Turner@becomecharity.org.uk
The Rees Centre welcomes guest blog posts from professionals across the sector. Views expressed are the authors' own and do not represent those of the Rees Centre.
Analysis of aggregate administrative data
By Emily Buehler, Rees Centre.
This post is part of a series published by the Rees Centre on data (see below for related posts).
Secondary analysis of administrative datasets can provide key insight into children's social care services' practices and outcomes. The Department for Education collates data from a range of government sources that is made publicly available through the Local Authority Interactive Tool (LAIT).  Over 500 data items at the local authority level are available and span a range of topics related to the safety and well-being of children and young people.
Indicators included in the LAIT tool can be used by researchers, analysts and practitioners to explore relationships and trends that can then be used to inform decision-making, resource-allocation, policies, and social work practices. With any research utilising secondary data, it is important to consider how outcomes of interest are defined and measured through the use of specific items. Integral to the process is the identification of an outcome, a decision on which data item indicators can be used to measure that outcome, and justification for why such an outcome is important in the given context (La Valle et al, 2019). However, in the case of children's social care administrative data analysis, the analysis, findings and interpretation of findings are not always so straight forward. Constructing a narrative of change or progress through data can be vulnerable to biases in what indicators are chosen, how they are analysed, and how results are interpreted. It is, therefore, paramount to acknowledge the complexities of using this data to inform assessments about the qualities of local authorities.
The following illustration highlights how preliminary insights from analysis should be reviewed carefully and critically with regard to how they explain an outcome.
Perhaps I am interested in drawing conclusions about the stability of the social worker workforce in the Outer London region. This outcome is important to consider because workforce stability has implications for continuity of care, service effectiveness, and economic costs (La Valle et al, 2019; Hussein et al, 2015). The Children's Commissioner Office produces an index of social worker stability; their research has found labour market indicators such as rates of turnover, vacancies and agency staff are the strongest predictors of a looked after child experiencing multiple social worker changes (Clarke, 2019). In this example, I will be exploring turnover rate. This rate is calculated by dividing the number of leavers by the number of social workers in place at year end (Department for Education, 2019). The following plot highlights the turnover rates for each Outer London authority at two time points: in 2014 and in 2018.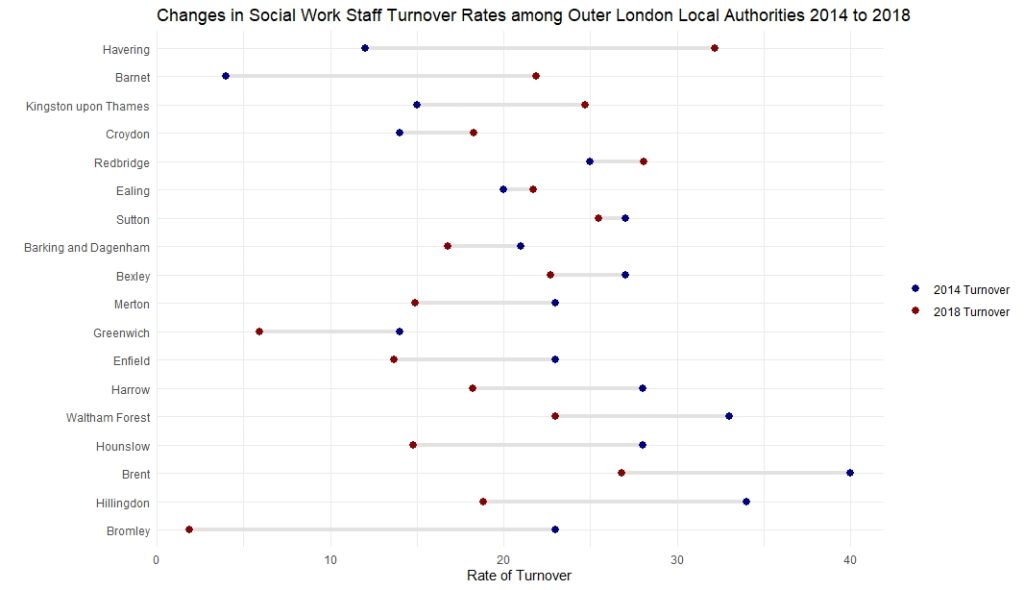 Local authorities at the top of this plot have had the most dramatic increases in social work staff turnover over the past four years and those at the bottom of the plot have largest decreases in rates of staff turnover. Shorter lines in between dots represent very small changes in these rates. In drawing conclusions back to the outcome of interest, workforce stability, it is useful to interrogate these findings a bit more. As such, it could be useful to compare the extremes of these changes. In Bromley, rates of turnover have decreased by nearly 20%. In Havering, turnover has increased by approximately the same amount. In explaining these changes and their potential impacts, it is useful to consider the journeys of both over this period of time.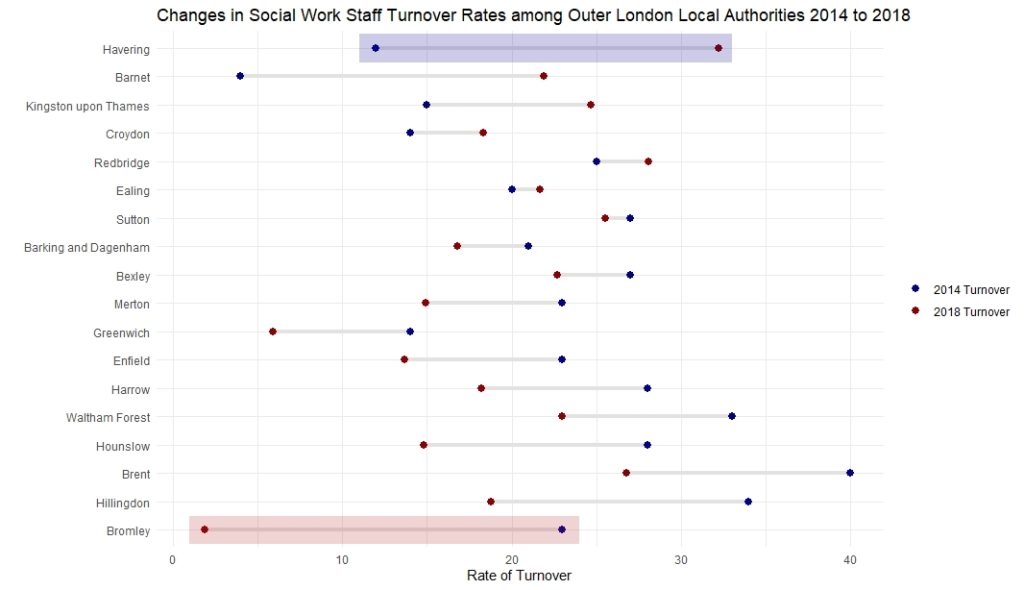 Bromley's children's care services were judged Inadequate overall when inspected by Ofsted in June 2016 and made a substantial improvement at their most recent inspection, earning an overall Good rating in January of 2019.  Similarly, Havering's children's social care services have improved from a rating of Requires Improvement to be Good in December 2016 to Good as of July 2018. In thinking about the improvement journeys of both local authorities, there may be several possible explanations for large discrepancies in turnover rates and what they may indicate in regard to the impact of workforce stability. High staff turnover in 2018 around the time of an improved rating could be associated with an organisational restructure where ineffective staff may have left the local authority. Low turnover at a time of improved rating could mean that stability in the workforce has led to more effective service delivery. Both explanations could be equally plausible.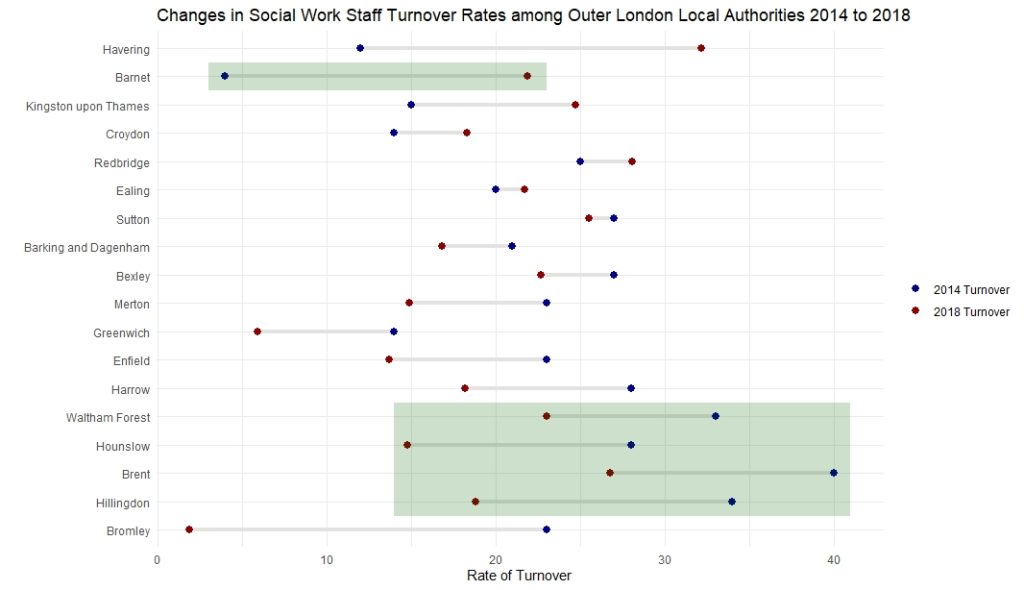 This explanation may also be supported by examining the changes in Ofsted ratings for other local authorities in the region that have experienced large changes in rates of staff turnover in either direction. Waltham Forest, Hounslow, Brent, and Hillingdon are four other local authorities that had turnover rates of over 25% in 2014 that have since decreased by around 10%. All four were judged as requiring improvement during inspections that occurred in 2014-2015 but received an overall rating of Good at their most recent inspections in 2018-2019. Barnet has also experienced a shakeup of their staff, with turnover increasing by over 15% over this period. Like Havering, this coincides with an improvement in their overall Ofsted rating (moving from Inadequate in 2017 to Good in 2019). These patterns may suggest that both large changes in social work staff and a transition to a more consistent workforce can have beneficial effects on the local authority.
These initial findings can be supplemented by deeper explorations into annual trends of turnover or by making comparisons to other indicators relating to the stability of the workforce, such as the rates of vacancies or staff absences over the year. Turnover alone may not be an accurate measure of stability, and stability itself may not be a concept that always equates to the most effective services and good practices. It may be important to consider external factors that may influence the movement of social workers, such as neighbouring local authorities offering financial incentives or promises of lighter workloads (ADCS Safeguarding Pressures Phase 6 Main Report, 2018). The social worker workforce does not operate in a vacuum and the complexities of a constantly-changing social care system influence these measures of stability. Changes in policy, budgets and grant funding, and relationships with Ofsted under the new ILACS inspection framework place added pressures on local authorities. Given these limitations, analysis of aggregate administrative data should be acknowledged as an important first step on a research journey, but it should not be the last.
This blog post is written by Emily Buehler, Research Officer at the Rees Centre.
It is part of a series published by the Rees Centre on data.
Related posts:
Using data tools in local authority children's services