The inaugural Rees Centre Annual Lecture 2019 was delivered by a panel of speakers on the topic of school exclusions and issues for looked after and adopted children.
Harry Daniels, Professor of Education at Oxford spoke about wide disparities in rates of official school exclusions across Scotland, Wales, England and North Ireland and outlined new research from a multidisciplinary group that will take a holistic view of exclusions and consider their consequences for young people, their families, schools and other professionals.  Alison Woodhead from Adoption UK considered issues that adopted children and families experience related to school exclusions. Lisa Cherry, author and trainer, spoke of her own experiences and provided insights into research she has carried out looking at impacts on education and employment of care experienced adults who left care in the 1970s and 1980s and were excluded from school.
The full recording of the event is available here.
The Rees Centre was pleased and privileged to contribute to The Care Experienced Conference at Liverpool Hope University and the recently published Research and Academic Group Report.
This special edition (open access until Feb 2020) presents a range of research reported at the ESRC Seminar Series on Fostering Teenagers, co-hosted by the Rees Centre. Each paper is followed by a commentary by a care-experienced young person. Topics include parenting styles, transitions to adulthood, child sexual exploitation, fostering unaccompanied asylum seeking young people, young people in custody and the needs of LGBTQ and separated teenagers.
Special Issue: Child & Family Social Work, volume 24, issue 3, July 2019
All the articles in this special edition are open access until Feb 2020.
A snapshot of our activities over the last 2 months.
Rees Centre newsletter for July:
Including launch of outcomes framework funded by the Nuffied Foundation.
Last month Professor Nancy Perry, Dorothy Lam Chair in Special Education and Professor of Educational and Counselling Psychology and Special Education at the University of British Columbia, delivered the OUCEA Annual Lecture on Using Formative Assessment to Catalyse Self- Regulated Learning. 
Nancy's lecture is available in full length here.
Kit Double, Joshua McGrane, Jamie Stiff and Therese N. Hopfenbeck have published an article in the British Educational Research Journal entitled "The importance of early phonics improvements for predicting later reading comprehension".
The article builds upon the centre's work for PIRLS 2016, and investigates how student performance on the year 1 phonics screening check in England predicts their performance in the key stage 1 reading assessment the following year, as well as in the PIRLS reading comprehension test four years later. The article explores the benefits of early interventions and further checks of phonics skills on improving later reading comprehension outcomes, particularly for students who fail to meet the 'expected standard' in the initial phonics screening check.
To view the full article in the British Educational Research Journal, please click here.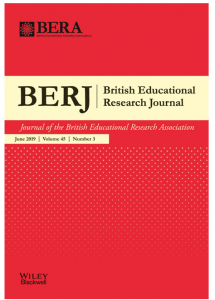 OUCEA won a competitive grant to investigate the effect of the International Baccalaureate's Diploma Programme on the development of critical thinking.
The twelve-month project entitled 'The effect of the Diploma Programme on Critical Thinking: An international multisite evaluation' is funded by the International Baccalaureate Office (IBO). The project will gather and analyse empirical evidence of critical thinking skills of students in DP and non-DP schools in Australia, England and Norway.
For more information, visit the project's webpage. 
Professor Nancy Perry, Dorothy Lam Chair in Special Education and Professor of Educational and Counselling Psychology and Special Education at the University of British Columbia, delivered this year's OUCEA Annual Lecture at the Ashmolean Museum in Oxford in celebration of the Centre's work and success this academic year.
In her talk Using Formative Assessment to Catalyse Self- Regulated Learning Prof Perry provided insights into her conceptual and empirical work and how to support teachers in their work. The lecture was followed by comments from OUCEA Director Therese N. Hopfenbeck and an engaged Q&A session with the audience.
The lecture and subsequent drinks reception in the European Picture Gallery were attended by academics, students, practitioners and members of the wider public locally but also from Wales, Ireland, Scotland, South Africa, Hong Kong and Norway.
A video of the lecture will be uploaded on this website shortly.
Prof Nancy Perry during her talk
Prof Nancy Perry and OUCEA Director Associate Prof Therese N. Hopfenbeck during the Q&A session
Prof Victoria Murphy, Deputy Director of the Oxford University Department of Education, introduced Prof Nancy Perry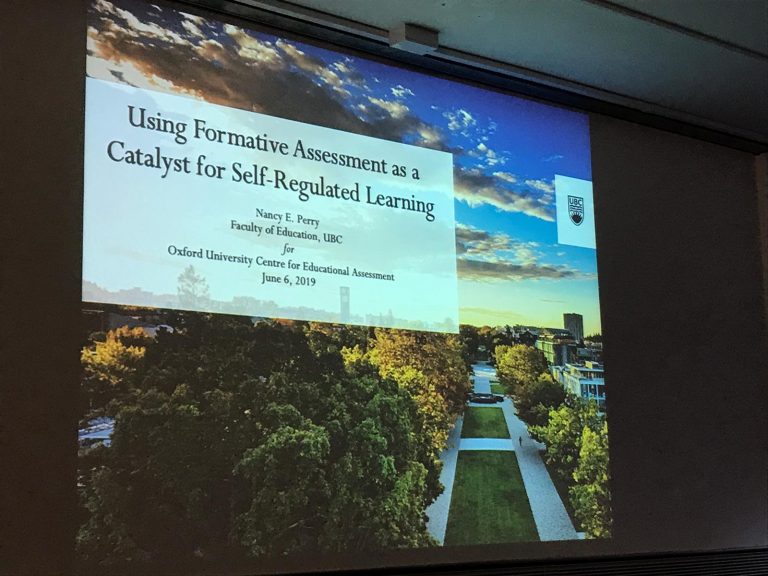 Professor Anil Kanjee from Tshwane University of Technology, South Africa is visiting OUCEA for the term.
As co-investigator of the AFLA project Anil will be working with Principal Investigator Dr Therese Hopfenbeck and her team on the last stages of the four-year research cooperation.
Anil welcomes any questions about his work and is looking forward to his time in Oxford.