A new, open-access book was launched at the British Educational Research Association conference this week, on the state of teach education.
Professor Jo-Anne Baird's chapter, on policy negotations in initial teacher education addresses what is at stake, why teacher education matters and how the education sector in England tried to influence teacher education policy to build on the research evidence.  Only days after its launch, the book has had hundreds of downloads.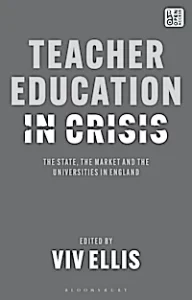 Professor Jenni Ingram has been named a full Professor of Mathematics Education in this year's Recognition of Distinction Scheme.
Jenni's research focuses on mathematics education with a particular interest in classroom interaction and language, and mathematics assessment both internationally and within classrooms.
Jenni said: "I am honoured to receive this recognition for my research, teaching and citizenship.  Working in this department has provided me with many enriching opportunities and connections with supportive and inspirational colleagues, particularly within the teacher education research group."
Will you be attending the BERA conference this September? Make sure to catch the following presentations from Department of Education researchers.
12 September
Alis Oancea
The University and the Professions: shall we dance?
10:05-10:45am Tuesday, 12 September, 2023
Victoria Elliott
Racist epithets in the classroom: unpacking attitudes to the N word in teaching English
1.24 Teachers using their agency in difficult times, 11:00am-12:30pm Tuesday, 12 September, 2023
Ann Childs
Teacher Education in Crisis: From the 'Market Review' to the Authoritarian State
1:30-3:00pm Tuesday, 12 September, 2023
Tiarnach McDermott, Christina Hasenhüttl, Pierre Lucien, Katharine Burn, Pamela Sammons
Pupil progress: Teaching quality matters
3.23 Pupil progress, attainment, teaching and school effectiveness., 3:30-5:00pm Tuesday, 12 September, 2023
Anna-Maria Ramezanzadeh, Lars-Erik Malmberg, Robert Woore
'Believing and Achieving' in learning Arabic: the relationship between 'motivational selves' and performance in a multiglossic context
3.15 Language Learning in a Global World, 3:30-5:00pm Tuesday, 12 September, 2023
Kason Ka Ching Cheung
Intercoder reliability in coding interviews in educational research: Issues of paradigm, method and interpretation
3.6 Exploring research techniques and analyses, 3:30-5:00pm Tuesday, 12 September, 2023
Daniel Cottle
Poster: Exploring the experiences of undergraduate physics students on a 'Teaching Physics in School' module and the effects on their intentions to become physics teachers
2.11 Poster presentation session 1, 1:30-3:00pm Tuesday, 12 September, 2023
13 September
Judith Hillier
"But surely we have equality now?": the 21st century experiences of women studying physics in the UK
6..5 Social justice, 1:30-3:00pm Wednesday, 13 September, 2023
14 September
Nigel Fancourt
Judicial pedagogies: religions and worldview education in national and international courts
11:00am – 12.30pm Thursday 14th September

John Furlong
In conversation with John Furlong
11:00am-12:30pm Thursday, 14 September, 2023
Nicole Dingwall
The future of teacher expertise in English? Its Directions and its Directors.
11:00am-12:30pm Thursday, 14 September, 2023
Emma Rawlings Smith
What, who and where next for teacher identity research? Identifying priorities for the field from a systematic review of the literature.
11:00am-12:30pm Thursday, 14 September, 2023
The education system is not the same as before the pandemic.  We need policies that address the current situation if we are to improve standards. Professor Jo-Anne Baird (Director of the Oxford University Centre for Educational Assessment) speaks to The Today programme.
Listen here:
A new project led by Dr Lulu Shi of the University of Oxford's Department of Education aims to understand the economic and political agendas of technology firms and policymakers driving the digitalisation of education.
While experts hope that using digital tools and technologies for education will increase access, encourage inclusiveness and improve efficiency, the study will investigate whether the push for digital education may be driven by ulterior motives.
Dr Lulu Shi, Departmental Lecturer in Digital Education at the University of Oxford, said: "Education technology (EdTech) firms and national and international policy actors promote digital education, but they may not have the public interest as a core mandate.
"EdTech firms present their digital products as cost-saving solutions to problems in education, yet most of them are for-profit businesses and their driving interests and motivations need to be further explored. There have also been suggestions that the government's promotion of digital education may reflect the ambition for positioning themselves favourably in the global competition of technology innovations, so I'll be using the project to explore this.
"Making the power dynamics more visible and increasing awareness of the constantly evolving narratives around digital education will allow us to better evaluate the impact of using digital education tools, benefitting end-users including teachers, students and parents.
"It's vital that we have a fully rounded picture of the growth of digital education given that it is only likely to increase as time goes on."
The project is funded by a £5,000 grant from the British Educational Research Association (BERA) and will involve semi-structured interviews with various stakeholders from EdTech firms and policy-making groups. The final report will be released in 2024 and will offer recommendations for schools, teachers and regulatory bodies.
The Oxford Education Deanery hosted two teacher learning events on 27 July, attended by a wide range of teachers and headteachers from primary and secondary schools around the country.
The first event focused on noticing, rehearsing, analysing and refining practice in the Early Years classroom. Led by Professor Kathy Sylva and Dr Sandra Mathers, the day included a mix of theory and interactive activities to support the identification of effective strategies to foster children's language development. The comments from participants below are testament to the value the teachers placed on the event:
"The whole session had a profound impact on me. I am so interested to hear more about research which was delivered in a clear way"
"It has empowered me and inspired me to find out more and look at my own practice"
"What a brilliant day, made me proud to be in early years. Thank you"
Alongside the Early Years event, Professor Victoria Murphy, Professor Steve Strand, Dr Faidra Faitaki and Dr Hamish Chalmers developed a day of input focused on improving the educational experiences of students for whom English is an Additional Language. The day covered bilingual language development across the skills of reading, writing, listening and speaking. There were also sessions exploring multilingualism in the classroom and the assessment of EAL learners.
"Super interesting and relevant presentations"
"The breadth of research covered in the sessions was truly remarkable"
"It felt like what teachers do in the classroom really matters to you"
"It was a really helpful digest of all the research I don't have time to keep on top of, with expert commentary"
We rounded off the day of learning with a formal dinner hosted at Kellogg College, which was an excellent chance for participants to continue their conversations and build networks.
The Education Deanery events aim to provide a conduit for our researchers to share their work directly with teachers, and for teachers to contribute to ongoing discussions about the research agendas of the department.
Professor Simon Marginson FBA, Director of the Centre for Global Higher Education, has been elected a Fellow of the British Academy.
Professor Marginson's research is focused primarily on global and international higher education, higher education in East Asia, the public and social contributions of higher education, and higher education and social equality.
Professor Marginson said, 'I am deeply conscious of the history of the Academy and of its roll-call of Fellows, including some who continue to shape my own intellectual formation. One never feels equal to the company at such times but it is a wonderful opportunity to work collaboratively and inter-culturally to further the many heterogeneous contributions of the arts, humanities and social sciences.'
In total this year, the Academy named 86 new Fellows, including those from the UK.  They join a community of more than 1,600 distinguished peers.
A new report sets out findings from a narrative literature review and an expert consultation conducted at the University of Oxford's Rees Centre to inform recommendations to the Department for Education (DfE) on how to improve information sharing.
The Health and Care Act 2022 requires the Secretary of State for Education to report on government policy in relation to information sharing. The DfE commissioned Newham Council, Social Finance and the Rees Centre through the Data and Digital Fund to consider the barriers and potential enablers to better information sharing and to make recommendations for improving the ways information is shared among safeguarding partners such as the NHS, police and local authorities, as well as within educational settings. The Rees Centre and Social Finance both provided research input to support Newham's recommendations to DfE.
The Rees Centre was delighted to collaborate with Mary Baginsky and Rick Hood in undertaking this work, which was conducted at pace to feed academic knowledge in to skilled policy work. This report provides the background literature and analysis that Rees fed in to the discussions to inform the recommendations. The report emphasises challenges for implementation based on a rich analysis of the barriers to behavioural change and the history of reforms and attempts to improve information sharing.
The report is available on the Rees Centre website. The DfE report was presented to the House of Parliament on 6 July 2023.
Jamie Stiff and colleagues have looked at the 221 academic publications on the Progress in International Reading Study, the world's largest reading assessment.  They found that:
Most articles used PIRLS data for secondary data analysis.
Research related to attainment gaps has increased since 2015.
20% of articles were critiques of PIRLS constructs and/or procedures.
PIRLS remains underutilised for researching reading literacy.
The full article can be found here:
Stiff, J., Lenkeit, J., Hopfenbeck, T.N., Kayton, H. and McGrane, J.A. (2023) Research engagement in the Progress in International Reading Literacy Study: A systematic review. Educational Research Review, 40. https://doi.org/10.1016/j.edurev.2023.100547