Literacy instruction programs have arguably had limited success in low- and middle-income countries because they focus on the technical – but not the social – aspects of literacy instruction. Reform efforts in sub-Saharan Africa have regularly failed to shift pedagogy away from teacher-led whole-class direct instruction to activities that are more effective for learning. In part, the failure is due to a lack of recognition of the social nature of classrooms where teacher-child interactions are conditioned by cultural predispositions. New research from Tanzania identified such challenges to pedagogical reform and points to potential solutions. One approach focuses on the child – to develop their social and emotional competencies. Teachers in Mtwara, Tanzania – but not parents – think that confidence and curiosity are important for student learning and report that interactive teaching activities are less effective in rural areas where students lack these competencies. Evidence suggests that building students' confidence to participate in class is achievable relatively quickly. A second approach is to adapt teaching activities. Teachers in Tanzania report reluctance to implement teaching activities that undermine the social goals of instruction, such as avoiding embarrassment and promoting a sense of fairness and togetherness in the classroom. Instruction would be more effective if activities are co-designed with teachers to achieve both the social goals and the cognitive/learning goals of teaching.
About the speaker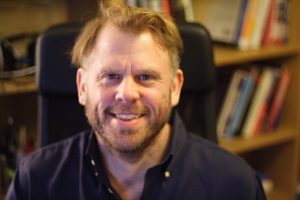 Matthew Jukes is a Fellow and Senior Education Evaluation Specialist at RTI International with 20 years of experience as a researcher in international education and child development. He is Principal Investigator of the Playful Learning Measurement Initiative (2020-22) and the Research Director of the Play Accelerator research program (2019–2024), both funded by the LEGO foundation. Dr. Jukes is also the Research Director of the Learning @ Scale research program (2019–2022), funded by the Bill & Melinda Gates Foundation through the Center for Global Development, which investigates 14 highly effective learning improvement interventions in low- and middle-income countries. Dr. Jukes conducts research on the cultural context of social emotional learning and effective pedagogy, and evidence-based decision-making in education. Previous roles include Associate Professor of International Education at the Harvard Graduate School of Education Room to Read and Senior Director of Global Research, Monitoring, and Evaluation Strategy. Dr. Jukes holds a doctorate in early childhood development and a bachelor's degree in physics from Oxford University.
Join the webinar on the day, with this link.
This talk is a work-in-progress report that discusses some recent research on tests of productive vocabulary. It is relatively easy to test second language learners' receptive vocabulary, but testing their productive vocabulary is much more of a problem. The talk will describe a minimalist approach that (somehow) manages to extract a lot of information about the words learners know from a tiny number of words that they actually use.
Bio: Paul was awarded a DPhil at York University in 1980. He was a founder member of the Department of Applied Linguistics at Birkbeck College London, where he worked until 1990, and Professor in the Department of English at Swansea University until his retirement in 2009. Paul was awarded an Honorary Fellowship by the Chartered Institute of Linguists in 2010, and elected to the Academy of Social Sciences in 2012. He is an Honorary Professor in the Centre for Language and Communication Research at the University of Cardiff and an Honorary Research Fellow in the Department of Education at the University of Oxford. Paul's current research is mainly concerned with developing computational models of how people acquire words and how they lose their lexical skills as they grow older. He is particularly interested in the emergent properties of lexical models with minimal assumptions. He runs a number of small projects that apply bibliometric methods to the corpus of research in applied linguistics. These projects are mainly concerned with evaluating the main historical trends in applied linguistics research, and with identifying new research fronts at an early stage.
Join the event on the day with this link.
Protracted periods of lockdown and school closures during the ongoing COVID-19 pandemic have affected the amount of time that children spend at home with their families and away from their peers. For some families in which English is not the first or the only language this situation has the potential to change multilingual patterns of interaction in significant ways. In this talk I will report some preliminary findings from an ongoing longitudinal study of language use in multilingual families in the UK and Ireland (https://research.reading.ac.uk/celm/research/pandemicmultilingualism/). The first phase of the project (April-July 2020) included a survey with more than 750 respondents followed in August 2020 by a set of 18 interviews with parents and children of different ages. In November 2020 we invited 250 parents who had expressed an interest to be involved in the second phase to complete a shorter survey asking whether any changes in the use of English and their other language(s) had been maintained over time. The third and final phase of the project in April 2021 will include a final survey and a second round of interviews with the same families who were interviewed in summer 2020. In a set of initial analyses of the quantitative and of the qualitative data I will reflect on the implications for family language policy and for the role of input in children's maintenance and development of their multilingual repertoire.
Bio: Ludovica has obtained a diploma in conference interpreting from the SSIT (Milan), a degree in English and French languages and literatures from the IULM (Milan), an MA in language acquisition from the University of Essex, and a PhD in linguistics from the University of Edinburgh in 2000. In 1999 she joined the University of Manchester. Since then, she has worked on language development in both monolingual and bilingual children and more recently on bilingual adults, with a specific interest in linguistic phenomena that cut across language structure and language use; issues of referential and syntactic choice have featured prominently in my work. Her recent research projects include a focus on analogical reasoning in syntactic choice; the relationship between language experience, executive function skills and referential choice; and the bilingual co-activation of morpho-syntactic structures during online sentence comprehension. In 2016, I joined the University of Reading as Professor of Bi-Multilingualism, and she is the Director of the Centre for Literacy and Multilingualism.
Join the webinar on the day, with this link.
Whilst Practitioner research has gained momentum, guidance is required for teachers who wish to research their own classrooms or for academics who support teachers in such endeavours. I will report on a qualitative study of 6 Chinese students who joined a pre-sessional programme before commencing a postgraduate course in the UK. Initially, I was their pre-sessional teacher, and during this programme I adopted Exploratory Practice to investigate their motivation to study and live in the UK. At the end of this programme, I followed them throughout their postgraduate year, this time, as a narrative researcher who organised several rounds of interviews. Having worn the teacher and researcher hats, I wish to draw upon this experience to raise and address questions such as what are the key challenges and affordances of practitioner research? Who benefits from practitioner research? What ethical dilemmas might one face? I will argue that, as teachers, we are well-placed to conduct research with our own students, showing how teacher-research done within one's educational context can illuminate phenomena that an 'external' researcher may not see. In this light, a 'small-lens approach' to research (Ushioda, 2016) may offer insights which more traditional approaches within Applied Linguistics may not capture. At the same time, I will discuss the need for teacher-researchers to receive some kind of research training in order to develop a repertoire of research skills which, combined with an ethical teacher sensitivity, offer a formidable pathway for successful, useful and ethically sound research. In other words, practitioners can offer applied linguistics the insider-knowledge and understandings that traditional research approaches may not fully grasp, and academics can offer tools and perspectives from academic research which may support practitioners' inquiries. This work heeds Rose's (2019) and McKinley's (2019) calls for more collaboration between practitioners and academics and a practice-driven research agenda.
Bio: Sal Consoli is (Research) Assistant Professor in the Department of English at the Hong Kong Polytechnic University. His research focuses on the psychology of language learning and teaching as well as research ethics and reflexivity in applied linguistics. His work has been largely influenced by the epistemological and methodological traditions of narrative inquiry and practitioner research. Sal is co-founder of the Forum on Language Learning Motivation (FOLLM) and serves on the Executive Committee of the British Association of Applied Linguistics (BAAL).
Join the webinar on the day, with this link.
Behavioural and neuropsychological indicators suggest that executive control is a broad construct, comprising a set of correlated but broadly separable processes involving attention, cognitive flexibility and working memory (including memory updating) (Miyake & Friedman, 2012). These models are typically modelled with English monolingual young adults, whose cognitive skills are at peak efficiency, living in Western countries. But more than half of the world's population is bi/multilingual, raising the question as to why our approach to understanding the nature of executive processes relies on a population which is not representative of the global norm. The last few decades have witnessed interest in the cognitive profiles of bilinguals, with studies focused on monolingual-bilingual comparisons often demonstrating a bilingual advantage (Warmington et al., 2019; however, see Gathercole et al., 2014). Consequently, there remains little understanding regarding the extent to which cognitive skills are organised and interrelated in bi/multilinguals. In my previous work with bilingual adults I found that attention and inhibition correlated weakly, and that inhibitory processes were moderately related to working memory, while attention correlated weakly with working memory. These patterns imply some commonality and diversity across executive mechanisms. Although this has shed light on the nature and organisation of executive skills in bilinguals this was nevertheless done on a small scale. A vital concern is to replicate these patterns on a larger scale in bilingual children. This talk examines whether executive processes are organised differently in bilinguals and monolinguals.
Bio: Meesha is the Director of the MSc in Psychology and Education at the University of Sheffield and a Senior Fellow of the Higher Education Academy. As a former international student and, now in her current role as an academic, she supports cultivating outward-facing curricula, specifically, internationalisation. She is a firm believer that world-leading research and teaching cannot take place in absence of the global context. Meesha's research examines the intersection between cognition (i.e., attention, working memory and cognitive flexibility), language and literacy in multi/monolingual individuals across the lifespan. More recently, she has investigated cognitive-linguistic processing in Hindi/Urdu speaking children and adults living in the UK and India. Her research also focuses on (1) the role of nutrition in cognitive development (2) how best to promote healthy cognitive ageing (3) as well as the cognitive and neurological mechanisms underlying language learning in typical (children and adults) and atypical development (e.g., dyslexia). She is also interested in dyslexia assessment.
Please register ahead of the webinar, at this link.
A Bayesian Rate Ratio effect size to quantify intervention effects for count data in single case experimental research
Single case experimental design (SCED) is an indispensable methodology when evaluating intervention efficacy. Despite longstanding success with using visual analyses to evaluate SCED data, this method has limited utility for conducting meta-analyses. This is critical because meta-analyses should drive practice and policy in behavioral disorders, more than evidence derived from individual SCEDs. Even when analyzing data from individual studies, there is merit to using multiple analytic methods since statistical analyses in SCED can be challenging given small sample sizes and autocorrelated data. These complexities are exacerbated when using count data, which are common in SCEDs. Bayesian methods can be used to develop new statistical procedures that may address these challenges. I will focus on the formulation of a within-subject Bayesian rate ratio effect size (BRR) for autocorrelated count data which obviates the need for small sample corrections and is scale-free. I will illustrate this within-subject effect size using real data for an ABAB design.
One challenge of mathematics learning is to see mathematics as a sensemaking endeavor – to not only connect concepts and practices, but become a problem solver, develop metacognitive understandings, and develop productive mathematical beliefs. Opportunities for such understandings are rare in schools. Moreover, understanding mathematics is only one component of effective or "ambitious" teaching – better framed as the creation of mathematically rich and equitable learning environments. The challenge is to create robust learning environments that support every student in developing not only the knowledge and practices that underlie effective mathematical thinking, but that help them develop the sense of agency to engage in sense making. This implicates issues of race and equity, which are a challenge not only in classrooms but in society at large; structural and social inequities permeate the schools, as well as below par curricula, assessments, and professional development. I point to existence proofs that at least some these challenges can be addressed, while documenting the substantial challenges to making progress at scale.
Seminar Abstract
Drawing on the findings from the research on the public good in the Polish higher education system this paper addresses the issue of how the concepts are filled with meanings and how they impact the material reality in return.
Despite the striking differences, the public good is often used interchangeably with the common good in Polish higher education.
This presentation discusses the legal and historical background of the emergence of the concept of the common good at the foundations of the constitutional order in Poland, contrasts it with the public good tradition and presents its consequences for the relationships between the state, the social and the higher education as seen from the perspective of the different actors (governmental, institutional, discipline-based).
About the Speaker
Dr Krystian Szadkowski is a researcher at Scholarly Communication Research Group of Adam Mickiewicz University in Poznań, Poland. His interests cover Marxian political economy and transformations of higher education systems in Central Eastern Europe. He worked as a researcher for Education International (Brussels, Belgium) and as a consultant in policy projects funded by the Polish Ministry of Science and Higher Education
Seminar Abstract
In this talk I will present the Study Abroad and Language Acquisition (SALA) project, which measured the effects of a compulsory three-month long ERASMUS Study Abroad programme in an English-speaking country, following Formal Instruction in the home country. The participants were Spanish/Catalan advanced English as a Foreign Language learners, from a Catalan university in Barcelona. The project followed them for three years and measured their progress at four data collection times in phonological production, oral and written complexity accuracy and fluency (CAF), listening, grammar, vocabulary, attitudes and intercultural awareness. Results by and large show that larger gains were obtained during the sojourn abroad, however. This was not the case for all language skills.
About the speaker
Carmen Pérez Vidal is currently an accredited full professor of Language Acquisition and English at the Department of Translation and Linguistic Sciences, Universitat Pompeu Fabra (UPF), Barcelona, Spain. Her current research interests lie within the field of foreign language acquisition, child bilingualism, and the linguistic and non-linguistic effects of different learning contexts, namely Study Abroad, immersion (CLIL/EMI), and instructed second language acquisition (ISLA). On this topic she has been involved in a number of European funded projects and has conducted extensive research. She has published internationally in high impact journals in her field and has also contributed key chapters to different recent handbooks. She was the principal investigator of the Study Abroad and Language Acquisition (SALA) project (2004-2018), whose results were published in a John Benjamins' volume entitled Language Acquisition in Study Abroad and Formal Instruction Contexts (2014). She also founded and directed the ALLENCAM lab at her university (2004 -2017). She launched and co-coordinated the AILA Research Network (ReN) on Study abroad and is currently vice-president of the Study Abroad in European Perspective (SAREP) COST Action.