Researchers at Oxford University are inviting teachers, parents and students to help set priorities for research into English as an Additional Language (EAL).
The team is looking for 'unanswered questions' about EAL that can be investigated for the benefit of those who teach and study it.
The project, known as a priority-setting partnership, will gather suggestions from a broad group of participants before creating a 'top ten' of EAL research topics that will be made available to the academic community.
Questions could be related to classroom practice, such as 'What is the best way to teach the finer points of English grammar to advanced EAL learners?', or 'How can I help "new to English" students understand the content of my geography lessons?'
They could be related to parental support of EAL learners at home, such as 'What are the effects of reading bilingual story books with my child on their literacy development in English?', or 'How can I help my child with their homework if I am not confident with my own use of English?'
Or they could be related to what EAL learners can do to support their own learning, such as 'When I take notes in class does it matter if I use my home language?', or 'Are some ways of practising new words that I have learned more effective than other ways?'
Project organiser Dr Hamish Chalmers, of Oxford University's Department of Education, said: 'People who do research are not usually the people who use research. It's important, therefore, that the people who use research tell the people who do research what kinds of questions they think those researchers should try to answer. That way, our research will be as meaningful and impactful as possible. We are working with teachers, parents of EAL learners, and EAL learners themselves to identify the most pressing questions in the field.'
A steering committee consisting of teachers, parents and EAL learners has been formed to oversee the priority-setting partnership (PSP). They have created a survey inviting teachers, parents and students to contribute their questions to the PSP. The team is keen to spread the word about the survey and the PSP so that organisers can hear as many voices as possible.
The survey is open until the end of January 2021, at which point all the questions and comments will be analysed by researchers at Oxford University. They will look carefully at what everybody has said in the survey, create themes from the information gathered, and turn those into a list of questions that could be answer through research.
Dr Chalmers said: 'Themes that arise during priority setting will be turned into specific research questions for researchers to explore. For example, in the survey people might say things like "I want to know what the best way to teach vocabulary to my EAL learners is", or "I find it difficult to remember new English words and I am not sure how best to solve this", or "My son uses an iPhone app to learn English words – does this help him?"
'All of these thoughts can be combined into a research question like "What approaches to teaching English vocabulary have been shown to be effective?"'
After the research questions have been created, they will be organised into a new 'ranking survey' that will ask participants to rank the research questions by importance. Finally, a workshop will be convened to allow participants to explore the ranked list of questions and decide together which of them should be in a 'top ten' of unanswered EAL research questions.
The top ten will be published in magazines and journals, publicised at conferences and seminars, and sent to researchers in EAL and to people who fund their research so that new research in EAL can be informed by what matters to EAL research users.
Speaking to teachers, parents and EAL learners, Professor Victoria Murphy, Deputy Director of the Department of Education at Oxford University, said: 'Please let us know what you think, so we can get a good response to what research is maximally of interest to teachers, parents and EAL students. Public engagement in research in this way helps to ensure that the research we do is meaningful, relevant, and that it meets the stated needs of the people whose practice it is intended to benefit.'
More information on the EAL priority-setting partnership can be found on the project website. The survey can be accessed directly online.
Watch a video explaining the project and how to take part:
The EAL PSP project is funded by BAAL (the British Association of Applied Linguistics) and supported by the University of Oxford's Department of Education. The Oxford team comprises Dr Hamish Chalmers, Professor Victoria Murphy, and doctoral teaching fellow Faidra Faitiki.
Three Oxford researchers have delivered their verdict on the government's new 'Development Matters' guidance document for the early years foundation stage.
Writing in 'Nursery World', Professor Kathy Sylva, Professor Iram Siraj and Dr Sandra Mathers also explore the independent supplementary commentary on the guidance, written by headteacher Dr Julien Grenier.
The early years foundation stage is described as 'setting standards for the learning, development and care of your child from birth to five years old' in England.
The Oxford Department of Education team writes: 'Last month saw the publication of "Working with the revised Early Years Foundation Stage: Principles into Practice" by Dr Julian Grenier, who led on the revised "Development Matters". This independently written document acts as a companion to the revised non-statutory guidance and is to be welcomed.
'The great strength of "Development Matters: Non-statutory curriculum guidance for the early years foundation stage (September 2020)" is its non-technical language, which will be accessible to both parents and all early years practitioners. At the same time, its weakness is that straightforward language cannot contain nuance – which is needed for a deep understanding of child development and pedagogy.
'For this reason, we applaud Dr Grenier's independent document because it delves deeper into theory and the evidence base, while providing rich guidance about the "how" as well as the "what" of early years best practice. As a standalone document, the revised curriculum guidance (CGEYFS) is far from perfect.'
Read the full think-piece, including an assessment of the guidance document's strengths and weaknesses, on the 'Nursery World' website.
'What makes life good? Care leavers' views on their wellbeing', published by Coram Voice in collaboration with Oxford University's Rees Centre, has shown significant differences in the experience of care leavers between local authorities in England.
It found disparity in the percentage of care leavers with low wellbeing ranged from 14% to 44% by local authority. Similarly, in one authority, half of young people did not always feel safe in their home, in contrast to another local authority where the same was true for only one in five.
The report is the first of its kind in examining the wellbeing of care leavers from their perspective and enabling comparisons across local authorities by analysing 1,804 care leaver responses collected between 2017 and 2019.
Findings also showed that:
Care leavers did worse than the general population on a range of measures.
There was a steep decline in wellbeing after young people left care.
Care leavers who reported that they had a disability or long-term health problem were particularly vulnerable.
Overall, although a majority of care leavers had moderate to high wellbeing, 30% had low wellbeing. This analysis identified the ten key factors associated well-being.
The care system can get it right. We can learn from the positive experiences of those with high wellbeing.
Many young people were especially positive about the support they received from their leaving care personal advisers.
Report author Professor Julie Selwyn, of the Rees Centre at the University of Oxford, said: 'Our analysis of the views of over 1,000 care leavers found that some, especially those with a disability or long-term health condition, had very low wellbeing. They had little support, felt unsafe in their own homes, were struggling financially and were pessimistic about their futures. Yet low wellbeing was not inevitable. Some care leavers were doing well and were proud of their achievements and ability to manage. Findings emphasise the large variation in care leavers' wellbeing depending on where they live, but also show that with the right kind of support care leavers can do as well as anyone else.'
Brigid Robinson, Managing Director of Coram Voice, said: 'Our report firmly puts the voices of young people leaving care centre stage by understanding, from their experiences, what makes life good. Our aspirations for young people leaving care should be the same as for our own children: that they thrive and grow to become confident young adults able to find their way in the world.
'To achieve this, we need to understand what is important to them, what they love doing, their hopes and feelings, and what could make things better. "What makes life good?" does this and, through this unique insight into young care leavers' subjective wellbeing, provides clear recommendations for policy and practice to make life better for young people leaving care so they can flourish into adulthood.'
The research highlights the importance of understanding how care leavers themselves feel about their lives. Understanding the factors that can improve care leavers' wellbeing is essential to delivering high-quality services and support, instead of basing it purely on objective measures and professional assessments such as whether care leavers are in education and employment.
Key recommendations for local authorities, guided by factors that care leavers have identified, include:
Improving connections, building trusting relationships and addressing loneliness.
Providing emotional and mental health support to address stress, negativity and help care leavers feel good about their future.
Providing money management and financial support to help care leavers cope financially.
Improving accommodation support to help care leavers feel safe and settled in their homes.
Identifying and supporting young people with disabilities and long-term health conditions.
Levelling-up provision so that more young people get the positive experiences we see in the best areas.
Addressing the cliff-edge of care at 18.
The report is part of a series of reports analysing the responses of 10,000 care leavers and children in care on what makes a positive difference to their wellbeing. This report follows a series of recent Children's Commissioner's reports and comes ahead of the government's imminent review of children's social care.
Read Professor Julie Selwyn's blog post on prospects for young care leavers.
A new study shows that researchers based in former Soviet republics have an 'unusually large' rate of international collaboration.
The research was carried out by academics at the University of Oxford and Russia's HSE University. They found that in 12 of 15 former Soviet bloc nations, more than half the papers indexed in the Web of Science database since 1993 were co-authored with researchers abroad, compared with about a third in Russia.
Study author Dr Maia Chankseliani, associate professor of comparative and international education in Oxford's Department of Education, said: 'Unusually large proportions of the Web of Science publications from these countries are internationally co-authored. The practice of international co-authorship is much more widespread in this region than globally, where only one in five publications is internationally co-authored.
'Researchers from relatively resource-poor contexts may be working harder to tap into international research funding. In other words, they may be relying on the international rather than the national funding sources.'
Membership of the EU among Baltic states may also have contributed to an increase in output and collaboration, say the study authors.
Read the full story in Times Higher Education (registration required).
The Department of Education at the University of Oxford has launched IDESR (the International Database of Education Systematic Reviews).
IDESR is a free-at-the-point-of-access electronic register of published systematic reviews in education, and a clearinghouse for registering and publishing protocols of planned and ongoing education systematic reviews. This release sees the launch of the first iteration of IDESR, which focuses on the field of second language education.
The team at Oxford has conducted a wide-ranging search for published systematic reviews that address questions related to second language education, and has curated them into a searchable database at IDESR.org. Researchers, teachers, policy makers and any other interested parties now have a one-stop shop for systematic reviews in this field, significantly simplifying the process of locating research syntheses of this sort.
Director of IDESR, Dr Hamish Chalmers of Oxford's Department of Education, said: 'When we embark on new research in education, it is imperative that we understand what is already known about our subject of interest. If we don't, we risk wasting our time, energy and resources on addressing questions for which an answer is already known. Systematic reviews aim to gather all the evidence that has been produced addressing a particular question, assess the quality of that evidence, and synthesise the results to provide an unbiased overview of the overall findings.'
Dr Chalmers added: 'In addition, teachers and policy makers who want to base their practice and policy on the totality of relevant evidence, rather than on just one or two high-profile studies, now have at their fingertips a resource that will direct them to research that will allow them to do just that. My hope is that IDESR will help to improve the quality of research and practice by providing access to high-quality research syntheses.'
As well as providing a database of published systematic reviews, IDESR is also a clearinghouse for registrations of protocols for planned and ongoing systematic reviews in education. Publishing the protocols of systematic reviews before conducting them encourages rigour in the process and promotes open science by allowing others to see how reviewers have mapped out the process they intend to follow and critically appraise the final review against what was planned. By prospectively publishing review protocols, IDESR also helps to reduce research waste (others can see whether reviews in a field that they are interested in are already under way and, if so, can modify their plans accordingly) and can help to foster collaboration by alerting prospective authors to others in their fields with similar interests.
Professor Sarah Miller, Director of Campbell UK and Ireland, one of the largest producers of systematic reviews in education, said of IDESR: 'This is an exciting and innovative project that actively promotes rigour in evidence synthesis in education, through providing a means by which to register a systematic review protocol, but also has the clear potential to improve the discoverability of existing systematic reviews in education. In a time when primary research is increasingly prolific, we need high-quality evidence syntheses to help us navigate our way through what the evidence is telling us about what works in education, and to help reduce research waste. IDESR has an important role to play in this endeavour.'
Until IDESR there was no dedicated space to publish systematic review protocols in education. IDESR fills this gap and in doing so has the potential to improve the rigour, relevance and accessibility of research synthesis in education.
IDESR is currently accepting protocol registrations in the field of second language education, and is actively seeking funding to expand its scope to make this provision available to all areas of education. Find IDESR at IDESR.org and follow updates at the IDESR blog or on Twitter @IDESR_org.
Enquiries about IDESR can be sent to Dr Hamish Chalmers at IDESR@education.ox.ac.uk.

Researchers from Oxford's Department of Education have found that students who take the International Baccalaureate (IB) exhibit stronger critical thinking skills than their non-IB peers.
The year-long study, commissioned by the International Baccalaureate Organization, looked at 560 students from eight schools in Australia, England and Norway to examine the impact of the IB's Diploma Programme (DP) on students' critical thinking abilities. In broad terms, critical thinking refers to a person's ability to analyse, synthesise and evaluate information. The DP is aimed at students aged 16-19.
The research was split into three phases. The first phase involved a literature review and analysis of IB materials to understand how the IB integrates critical thinking across DP subjects and components. Next, the researchers conducted quantitative data collection in schools to assess differences between DP and non-DP students, using the pre-validated Cornell Critical Thinking Test. The final phase involved interviews with DP students and teachers about their experiences learning or teaching critical thinking in the DP.
In phase two, researchers used statistical techniques known as regression analysis and propensity score matching to explore differences between DP and non-DP students. After controlling for covariates, DP students were found to have significantly higher critical thinking than their non-DP peers.
Professor Therese Hopfenbeck of the Oxford University Centre for Educational Assessment, who led the research, said: 'While we can't know for certain whether IB participation improves critical thinking, it is noteworthy that, even after controlling for many pre-existing differences, IB students appear to hold an advantage when it comes to critical thinking. The findings suggest that instructional approaches that focus on teaching critical thinking skills explicitly, as well as embedding opportunities for students to think critically within each subject, may facilitate the development of critical thinking skills.
'IB students and teachers have identified many potential avenues by which the IB encourages the development of critical thinking, and hopefully in the future we can build an even clearer picture of how to improve students' critical thinking skills.'
The IB was founded in 1968 and now engages with more than 1.4 million students in over 5,300 schools across 158 countries.
Read the full report or a summary of the study.
The educational disruption caused by the Covid-19 pandemic has produced potential new and heightened risks for school exclusions. Members of the Excluded Lives Research Team talked to practitioners, policy makers and professionals in different parts of England to glean an understanding of their perceptions of the situation.
"Well-being and attainment are inextricably linked and we need to achieve a better balance in the attention all schools give to them," said Harry Daniels, Professor of Education. "The key message is the need for policies that promote intervening upstream. To do this we need to ensure that the necessary infrastructure, resourcing and professional training and on-going support is in place, enabling schools and related services to identify needs and provide effective early intervention and support."
Ian Thompson, Associate Professor of Education said: "There is a risk that exclusions of all kinds will increase if the infrastructure and culture of schooling in England that emerges post COVID-19 is one that emphasises high performance, zero tolerance and funding limitations rather than well-being, attainment, attendance and safeguarding."
"Well-being and attainment are inextricably linked and we need to achieve a better balance in the attention all schools give to them."
The reports state that in order to mitigate exclusion risks, deliver the DfE's four pillars of attainment, attendance, safeguarding and well-being, foster inclusion, and meet the requirements of the 2010 Equality Act policies need to: Foster a nuanced understanding of vulnerability; recognise and promote well-being as fundamental for all children and young people; and, identify and resolve policy and practice contradictions.
A nuanced understanding of vulnerability would recognise the diversity of children and young people including those whose pre-existing vulnerabilities have been overlaid with COVID-19, those who have become vulnerable due to COVID-19, and embraces the risk factors and children and young people's views on their needs moving from a focus on vulnerable children and young people to focusing on vulnerable contexts. This can be supported through:
Engaging with children and young people using a Children's Rights based approach.
Learning from the positive benefits for some children of COVID-19 schooling identifying implications for teaching and learning and the factors affecting sustainability.
Producing granular, live data at both local and national levels to monitor the movement of policy into practice including attendance across all types of settings, absences and exclusions.
Recognising and promoting well-being as fundamental for all children and young people would enable them to attend consistently, engage with learning to catch up and attain; and ensure continued safeguarding, including mitigating the risks of exploitation. Policies need to foster long term, strategic approaches which:
Communicate the principles and practice implications of the DfE pillars in accessible, consistent and sustained ways across government departments, Local Authorities, Multi Academy Trusts, educational settings including all professions working with children and young people, schools and communities.
Take a joined up contextual approach to safeguarding and well-being building on existing provision including mental health support, school nursing and designated safeguarding leads within schools and Violence Reduction Units working in local areas.
Support all schools to review their culture and values within pedagogy, curriculum (including the arts and implications of the Black Lives Matter movement) and pastoral care.
Develop guidance on whole school approaches to well-being including social and emotional aspects of learning, understanding trauma and a focus on relationship building at all levels including supporting the well-being of teaching and support staff.
Provide evidence informed guidance, including a focus on prevention and early intervention to support schools to adopt a holistic approach to contextual safeguarding.
Strengthen Initial Teacher Training and Continuing Professional Development and the availability of resources for understanding social and emotional aspects of learning, trauma informed practice, approaches to supporting well-being and mental health.
Identifying and resolving policy and practice contradictions requires acknowledging the way legislation is enacted within and across government departments and services at all levels including consideration of:
The means to resolve the existing fragmented, performance dominated system and bring existing disparate education structures and partners together to develop an effective middle tier to ensure coherent, consistent and sustained support for vulnerable children and young people.
The policy and practice risks of the current accountability frameworks and the pressure from the culture of high performance, zero tolerance and funding shortfalls.
Revise accountability frameworks in ways that promote well-being and collaboration.
Develop collaborative support and challenge across services and partners ensuring partners (including Local Authorities, Multi Academy Trusts, youth offending and police services, social care and health services, Child and Adolescent Mental Health services etc) engage share data and are resourced.
DOWNLOAD THE REPORT HERE.
---
Excluded lives Project
This ESRC large grant aims to advance a multi-disciplinary understanding, and home-international comparison, of the political economies of exclusion, and how more equitable outcomes can be achieved for pupils, their families, and professionals. This will ensure that the knowledge gained of the costs and consequences of exclusion is comprehensive and captures the complexity of the interactions of different incentives and actions.
The research team, headed by the Department of Education, is a collaborative effort involving co-investigators from Oxford's Faculty of Law, Centre for Criminology and Department of Psychiatry and, more widely, the University of Edinburgh, Cardiff University, Queen's University Belfast and London School of Economics.
This project builds on previous research funded by the John Fell Fund, specifically two grants: Daniels, Porter and Thompson: Disparities in rates of permanent exclusion from school across the UK (£39,790), and Daniels and Thompson: An Interdisciplinary View of Permanent Disciplinary Exclusion in Oxfordshire (£39,265)
The project is predominantly UK focused though features a wide international network expanding the potential for non-UK impact and knowledge exchange.
Follow on Twitter – @excludedlives
The Rees Centre is publishing the first working paper from the Alex Timpson Attachment and Trauma Awareness in Schools Programme today, exploring the impact of whole school training in 24 primary schools in England.
Staff in the participating schools received training through their local authority in 2018 or early 2019.  This focused on the difficulties that young people can undergo due to their prior relationships with adults or other traumatic experiences, drawing on the latest research from psychology and neuroscience.
The working paper is based on two online staff surveys collected prior to the training and a year after.  The focus is on the changes that resulted for individuals and schools, as well as on staff perceptions about the impact on vulnerable pupils.  The key findings are:
Attachment and trauma training was well-regarded by school staff across all roles
64% of staff reported resulting changes to their everyday practices working with vulnerable young people
Increased emphasis on the use of language, empathy, trust, safety and wellbeing
'Emotion coaching' emerged as a key practical technique
Two-thirds of schools reviewed their behaviour policies and associated practices following the training
Most staff felt that vulnerable young people had benefited from the changes resulting from the training, especially in terms of wellbeing and enjoyment of school
Positivity about the training was highest among headteachers and other senior leaders – several reported transformational change in their school
The training itself is the start of a vital wider conversation – a necessary, but not sufficient, step towards attachment and trauma awareness in the school
Dr Neil Harrison, who leads the Timpson Programme, says, "Our research plan has been unavoidably affected by the Covid-19 pandemic and so we've taken the decision to publish the findings from data collected prior to lockdown.  This is only a small subset of the schools in the Programme and the findings are therefore tentative at this stage.  We will be publishing additional working papers over the coming six months."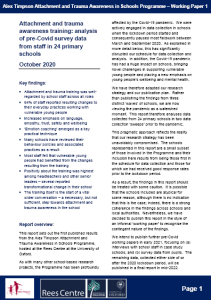 Working Paper 1: Attachment and trauma awareness training: analysis of pre-Covid survey data from staff in 24 primary schools (October 2020)
Congratulations to Professor Ian Menter on the prestigious award of a BERA John Nisbet Fellowship.  This honour recognises the outstanding contribution to educational research made by individuals over the course of their careers.  Ian's commitment to encouraging teacher education research and its application has been demonstrable in the Department, nationally and internationally and we warmly welcome this recognition of his achievements.
Find out more about the BERA John Nisbet Fellowship
here
.