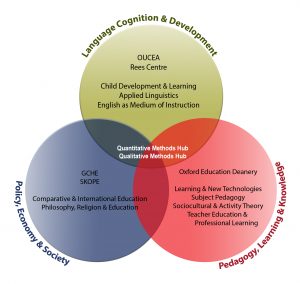 Research in the Department is organised under the three themes listed below, which demonstrate our focus on learning across the lifespan – from early years, through schooling, further and higher education, and into the workplace.
Within each theme are Research Groups and Research Centres, in which the intellectual energy of the department thrives. Staff and students are formally members of only one theme but are typically members of multiple research groups so are free to move and/or attend meetings and events of the other themes and their sub-groups.
Our methodological hubs also facilitate research excellence and collaboration.