The Oxford Review of Education is one of the UK's leading international education journals. It was founded in 1974 in the Department of Education, and published its first issue in 1975.
Each year the Oxford Review of Education awards a prize to the PGCE student with the highest scoring Professional Development Programme assignment. We are delighted to announce that there are three joint winners in 2022: Sze Wa Ho (Science) Unpacking the black box: the association between student socioeconomic status and academic achievement in the UK; Sophie Kettlewell (Modern Languages) Peer-on-peer sexual harassment, institutional sexism and sexting education: where schools can improve; and Emily Nebard (History) Influences on and the subsequent implementation of RSE in schools. Professor Ingrid Lunt (Editor 2010-2023) presented the awards at the PGCE end-of-year celebration party at the Oxford University Museum of Natural History. Congratulations to all three and we wish them every success for their future in the education profession.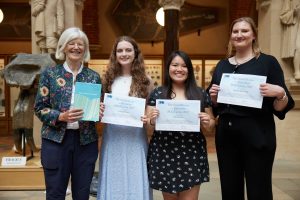 (L-R) Ingrid Lunt, Emily Nebard, Sze Wa Ho and Sophie Kettlewell

————————————————————————————————————-
The Oxford Review of Education aims to publish important new work on educational topics of general interest in a form that is accessible to a broad educational readership. The Editors welcome articles reporting significant new research as well as contributions of a more analytic or reflective kind, which may draw on the full range of disciplines relevant to education.
The journal normally produces two Special Issues each year. These enable the editors and guest editors to explore relevant themes in depth and to maintain a cross-disciplinary outlook which has characterised the journal since its beginnings. The Editors welcome proposals for future special issues. Please contact the Editorial Office (editorialoffice.ore@education.ox.ac.uk) for guidance on how to submit a proposal. The Editors are willing to provide feedback and support in developing a proposal; all proposals are discussed by the Editorial Board which has responsibility for planning Special Issues. Recently published Special Issues include:
The Editorial Board meets regularly. It is made up of members from the University of Oxford Department of Education and other relevant departments and from research fields relevant to education. It also has an International Advisory Board of members from different regions of the world and with various areas of expertise in the field of education or interdisciplinary research and practice.
Editors: Jo-Anne Baird, Velda Elliott and Steve Strand
Editorial Administrator: Joanne Hazell
Editorial office: Email editorialoffice.ore@education.ox.ac.uk
Telephone: +44 (0)1865 284407
Twitter: @OxfordRevEd
The Oxford Review of Education publishes six issues a year – please visit the journal homepage to see all the issues. Contents of Special Issues and links to articles are listed below.