Appointment of Dr Sonali Nag
Tuesday, July 19, 2016
Category: News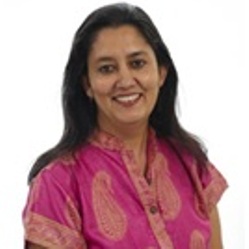 I am delighted to announce the appointment of Dr Sonali Nag as Associate Professor of Education and the Developing Child.
Sonali is a professionally qualified clinical psychologist, working at the interface of psychology and education.  She is an Honorary Director of The Promise Foundation, an Indian Charity with a focus on the mental health, education and potential realisation of children in poverty.  She is a Lead Clinical Psychologist in the Child Guidance Clinic, Bangalore and a Director of the Consultant Psychologists Group, Bangalore.
She has held the Royal Society Newton Fellowship for seven years and is a Visiting Academic in the Department of Experimental Psychology at the University of Oxford.
The focus of Sonali's research is literacy development and she is an expert in learning to read in the alphasyllabaries.  Her research has been published in international journals including Scientific Studies of Reading and Journal of Research in Reading and she has guest edited Special Issues on literacy development in the journals Reading and Writing: an Interdisciplinary Journal and Writing Systems Research.  She also co-wrote the proposal for and managed a rigorous literature review on educational attainments in developing countries funded by the Department for International Development (DfID).
Sonali joins our excellent Child Development and Education team in January 2017.
Professor Jo-Anne Baird
Director of the Department of Education