Bending light and reading secret messages….
Monday, February 11, 2013
Category: News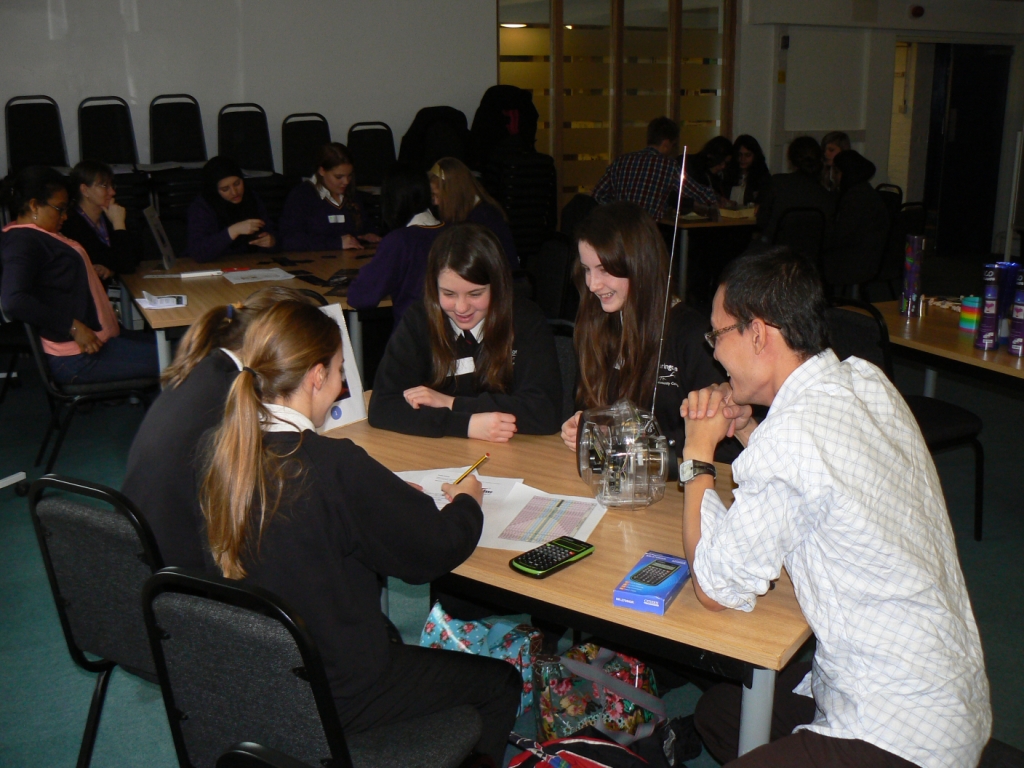 On Tuesday 29th January, we welcomed 70 pupils from local schools to the Department of Education for a KS3 Challenge Day. The day was organised by the Oxfordshire Schools Physics Partnership, in conjunction with the Department of Physics and was sponsored by the Ogden Trust.
The 11-14 year olds came from Cheney School, Faringdon Community College, Fitzharrys School, Magdalen College School and Oxford Spires Academy. They spent the day working together in teams of 5 at a series of challenges: to make and use a telescope, to solve puzzles using lasers and optics devices, and to investigate all the different forms of light across the electromagnetic spectrum: from radio waves, through microwaves, infrared, visible light, ultraviolet, x-rays and gamma rays. Each activity was led by researchers and post-graduate students from the Department of Physics. The pupils all enjoyed themselves, especially the challenge of having to think hard and work together as a team to complete the challenges. Points were awarded for different aspects of each task, with the winning teams each receiving a light-themed prize. First prize of fibre optic lamps went to a team from Faringdon Community College, second prize (torches) to Magdalen College School and Fitzharrys School took third place with glow-in-the-dark balloons.
This is the second KS3 Challenge Day organised by the Partnership, and is now an annual event. The Oxfordshire Schools Physics Partnership is chaired by Emily Liddle from Oxford Spires Academy, and works with the Departments of Education and Physics to provide enrichment activities for pupils and CPD events for physics teachers.
Day of challenges help prove physics is fun
Oxford Times online, 01/02/2013
School pupils enjoyed a day of fun physics challenges at Oxford University. Youngsters from various schools across Oxfordshire experimented with activities like guiding lasers through a maze and calculating the speed of light with a microwave and cheese. The event was organised by Oxfordshire Schools Physics Association at Oxford Spires Academy with the Oxford University Physics Department. It was funded by the Ogden Trust for Physics. More…