Building an Inclusive and Equitable Early Childhood Education for Refugee Children: Framework for Action
Wednesday, January 8, 2020
Category: News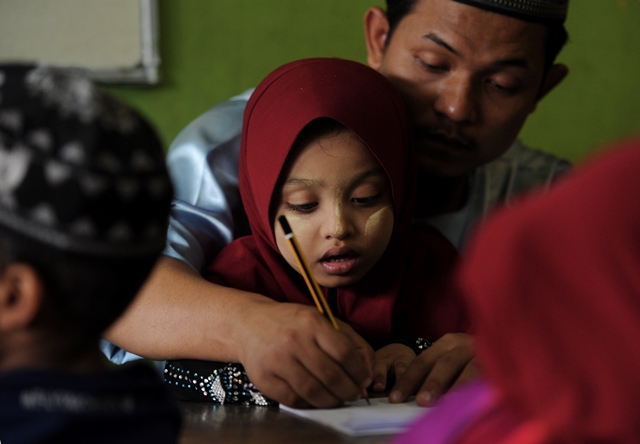 Iram Siraj (Professor of Child Development & Education at the department), working with Dr Kim Kong (University of Sains Malaysia), will lead a new study investigating the impact of early childhood education (ECE) on the development of refugee children in Malaysia. Funded by the British Academy Early Childhood Education Programme, the study is a responsive call to reach a vulnerable population by addressing the issues of quality, equity and accessibility to ECE. The research team will also work with UNHCR and UNICEF on the project.
Refugee children in Malaysia are unable to access the formal education system. Their education is delivered via an informal parallel system through NGO or community run-schools (UNHCR, 2019) and only 13% of refugee children aged 3 to 5 years are enrolled in ECE versus 85% of Malaysian pre-schoolers.
Without legal status in the country, safety and security concerns for refugee children continues to affect school attendance. The inability of parents to work legally also means household incomes are often insufficient to support school costs and children are at risk of being sent to work or female children being married early instead of attending school (FMT, 2019). There is a high turnover of teachers and minimal compensation at the community learning centres. There is also lack of data on out of school children.
Professor Iram Siraj, Principal Investigator on the project, said: "This project aims to identify challenges and barriers to ECE so the development of refugee children, the well-being of their families and ECE centres can be supported. The findings will be used to inform policy and promote high quality ECE practice."
Using mixed methods, data from multiple sources on child development will be collected to compare outcomes of those who did and did not access and participate in ECE. Developmental milestones and risks will also be highlighted.
The research, which started in November 2019 will run for two years and will aid policy to support sustainable ECE for refugee children in the Global South.