Frontiers in Educational Technology
21st June 2022 : 12:00 - 12:00
14th July 2022 : 12:00 - 12:00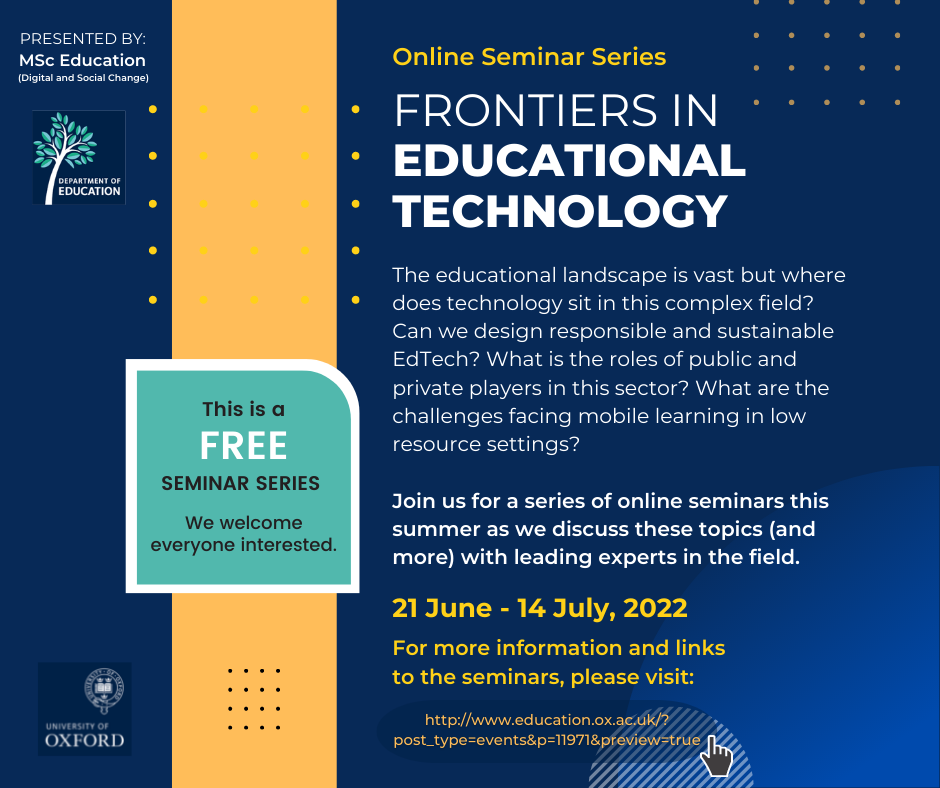 Convenors: Niall Winters, Carmen Hoepper, Zou Xinyi, Owen Henkel
| Date | Time | Speaker | Speaker Info | Theme |
| --- | --- | --- | --- | --- |
| Tue 21 June | 12.00-13.00 | Gerry Lacey | Professor of Robotics and Electronic Engineering | EdTech Healthcare Product Design: Challenges and Insight |
| Wed 22 June | 12.00-13.00 | Alice Lakati | Director of Research, Amref International University (AMIU) | Mobile Learning in low resource settings |
| Tue 28 June | 14.00-15.00 | Taskeem Adam | Senior Research Lead at EdTech Hub | Tackling coloniality in EdTech: Addressing digital neo-colonialism in MOOCs |
| Thu 30 June | 12.00-13.00 | Bernie Hogan | Senior Research Lead at the OII | The use of personal network approaches in teaching – pitfalls and potentials |
| Wed 6 July | 16.00-17.00 | Kristen DiCerbo | Chief Learning Officer at Khan Academy | Learning Design in a Digital Space |
| Tue 12 July | 14.00-15.00 | Rising Academies and Avanti Fellows | EdTech Start Ups | Reaching students during the pandemic: potential and pitfalls of leveraging tech to teach remotely in LMICs |
| Thu 14 July | 10.00-11.00 | Neil Selwyn | Distinguished Professor of Education, Monash University | Rethinking the digitization of education in an era of climate crisis |
Online Seminar Series
Frontiers in educational technology
The educational landscape is vast but where does technology sit in this complex field? Can we design responsible and sustainable EdTech? What is the roles of public and private players in this sector? What are the challenges facing mobile learning in low resource settings?
Join us for a series of online seminars this summer as we discuss these topics (and more) with leading experts in the field.
21 June – 14 July, 2022
Talk Summary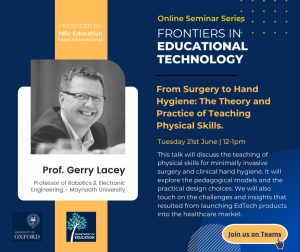 Gerry Lacey
(Professor of Robotics & Electronic Engineering – Maynooth University)
From surgery to hand hygiene: The theory and practice of teaching physical skills.
Tuesday 21st June | 12-1pm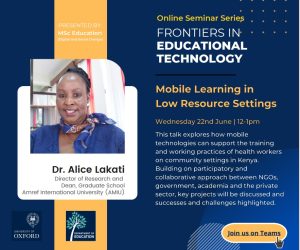 Alice Lakati
(Director of Research – Amref International University (AMIU))
Mobile Learning in Low Resource Settings
Wednesday 22nd June | 12-1pm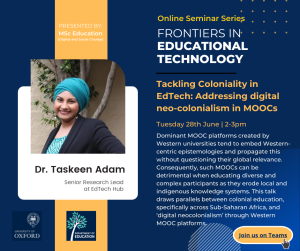 Taskeen Adam
(Senior Research Lead at EdTech Hub)
Tackling Coloniality in EdTech: Addressing digital neo-colonialism in MOOCs
Tuesday 28th June | 2-3pm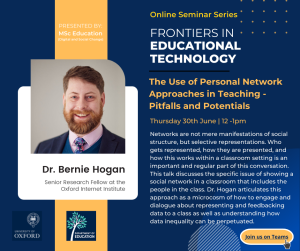 Bernie Hogan
(Senior Research Fellow at the Oxford Internet Institute)
The Use of Personal Network Approaches in Teaching – Pitfalls and Potentials
Thursday 30th June | 12 -1pm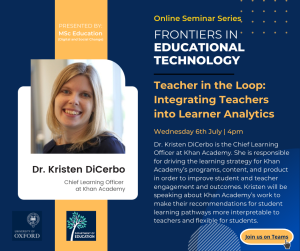 Kristen DiCerbo
(Chief Learning Officer at Khan Academy)
Teacher in the Loop: Integrating Teachers into Learner Analytics
Wednesday 6th July | 4pm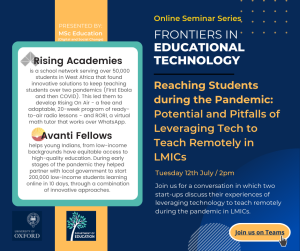 Rising Academies and Avanti Fellows
(EdTech Start Ups)
Reaching students during the pandemic: potential and pitfalls of leveraging tech to teach remotely in LMICs
Tuesday 12th July | 2pm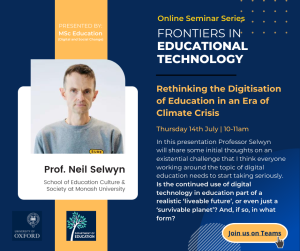 Neil Selwyn
(School of Education Culture & Society – Monash University)
Rethinking the Digitisation of Education in an Era of Climate Crisis
Thursday 14th July | 10-11am