New portrait of Professor Kathy Sylva
Tuesday, April 4, 2017
Category: News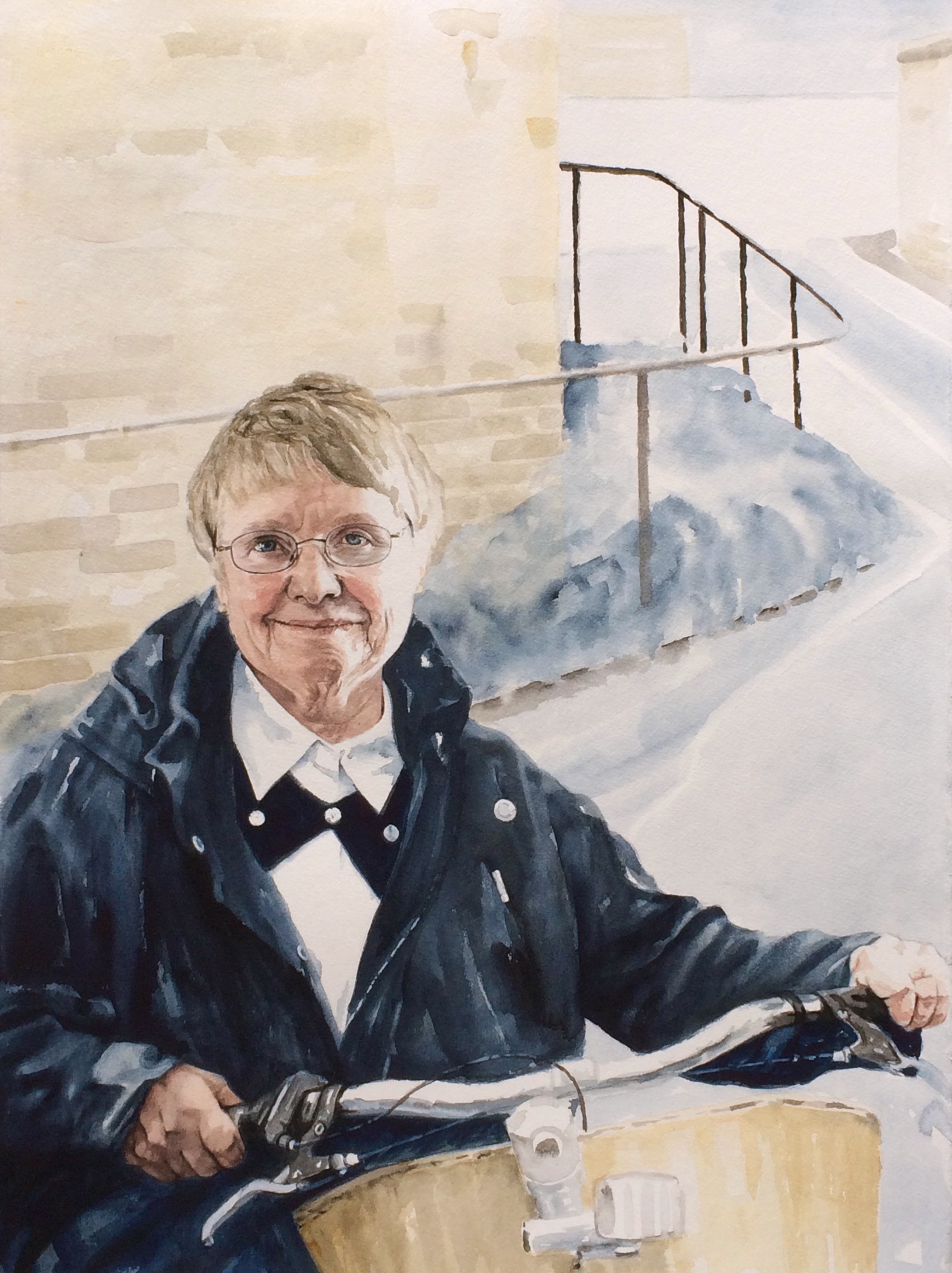 Professor Kathy Sylva, OBE, is one of the inspirational people who "have made enormous contributions to Oxford life and to society more widely" (Dr Rebecca Surrender, PVC for Equality and Diversity), celebrated in a series of portraits recently commissioned by the University of Oxford. Sitters were selected from over a hundred nominations.
Her portrait was created by the artist Pippa Thew. The newly commissioned works will feature in the University's central public spaces and will be shown at an exhibition in Oxford later this year.
Kathy Sylva's work has been key in making the University of Oxford a world-leading institution in early years research, in shaping early years policy and practice, and in transforming policy and practice nationally and internationally. Currently, she is Honorary Research Fellow and Professor of Educational Psychology at the Department of Education, University of Oxford.  She obtained her doctorate in Developmental Psychology from Harvard, after which she moved to Oxford, where she became the first female senior fellow at Jesus College.  Her publications include seven books and more than 200 papers on early childhood, early literacy, and ways to support families. She was awarded an OBE in 2008 for services to children and families and in 2014 the Nisbet Award for outstanding contribution to educational research, as well as honorary doctorates from the University of Gothenburg, the Open University and Oxford Brookes. She has been specialist adviser to Parliament (Commons 2000-2009, Lords 2014-2015) and is a Fellow of the Academy of Social Sciences and the British Psychological Society.
Prof Sylva has been a lead researcher on several large scale studies of the effects of early childhood education on children's development, including Europe's largest longitudinal study focused exclusively on the effectiveness of early years education for children's attainment, progress and development through primary and secondary school (EPPE – Effective Provision of Pre-School Education, initiated in 1997 and known, since 2007, as EPPSE – Effective Pre-school, Primary and Secondary Education 3-16).  Since 1997, this programme has tracked 3000 children (and their families and teachers) from entry to preschool (age 3) to the end of compulsory schooling (age 16). She also leads intervention studies in an attempt to understand how services for children and parents can be improved; the most recent is a parent programme aimed at supporting children's early reading. Her work and that of the teams she has been leading has made transformative contributions to the lives of millions of children, who benefited from the policy and practice changes directly informed by their research. In the words of a former senior civil servant, "anyone who has worked in Britain over the last ten years in the field of early education and care will, whether they know it or not, have been influenced by the EPPE Project. Indeed, many people currently employed in early years services owe the fact of their employment, at least in part, to the findings from this remarkable research… The landscape of early years education and care has been transformed in the last ten years. The research eloquently described in Sylva et al (2010) played a major role in that transformation, and has lessons for us in the next ten years" (Eistenstadt, 2010, pp. 427-28)
Further details on the EPPE/EPPSE project:
http://www.education.ox.ac.uk/research/fell/research/effective-pre-school-primary-and-secondary-education/
Further details on the newly commissioned portraits:
http://www.ox.ac.uk/news/2017-03-30-more-20-new-portraits-commissioned-reflect-oxford-universitys-diversity?utm_source=ox.ac.uk&utm_medium=referral