Fancy being a part of our fantastic Department?
We're recruiting for numerous roles including a new Communications Officer position at the Department of Education.
The Communications Officer position is a pivotal role within our team and we're looking for someone with a background in the full communications mix ideally with experience including social media, digital communications, media management and channel management.
This role is open for applications until 28th November and you can find out more here: Job Details (corehr.com)
To find out more about what other jobs we have available right now go to our vacancies page:
The University of Oxford's Department of Education has launched its flagship lecture series for Michaelmas term and members of the public are invited.
This term's theme is "Imperial 'legacies': Race and Education" and there will be a whole host of prominent internal and external speakers presenting.
Professor in Vocational Education, Susan James Relly, who organised the series, said: "We're delighted to be launching the first public lecture series of the academic year. These are our flagship lectures showcasing excellent research undertaken by a range of internal and external speakers.
"Many factors shape our understanding of what learning is and how it happens. This can be implicit or explicitly articulated and open to examination. And it is important that we examine these understandings using a variety of lenses.
"This series draws on people working across disciplines and focusses on the way that colonial histories matter to the questions of education in the current world. This includes the multiplicity of ways we need to understand race and education to ensure that learning and teaching enables equity, diversity and belonging for all students."
All events are held from 5pm until 6.30pm on Mondays at the Department (Lecture Room A, 15 Norham Gardens, Oxford) and are also available via Zoom. A drinks reception follows in Pring's Café.
Full details are below. Email communications@education.ox.ac.uk to get the relevant Zoom invite.
To see what other events the Department arranges, go to education.ox.ac.uk/upcoming-events.
Public Lectures Series Michaelmas Term 2022 Monday 5-6.30pm
Imperial 'legacies': Race and Education
17th October
Introduction. Race, education and schooling. Chair: Jason Todd with introduction to lecture series from Susan James Relly. Panel: Sally Tomlinson, Michelle Codrington-Rogers and Jason Todd.
24th October
Empires of the Mind: How empire is still with us in the 21st century. Robert Gildea, Prof of Modern History, University of Oxford. Chair: Natasha Robinson. Interlocutor: Caine Lewin Turner, Doctoral Student and Race and Resistance's co-convenor, History Faculty, Oxford), Marshalled by Memory: Black Responses to State Violence and the Threat of Resistance.
31st October
Beyond jingoistic ignorance : Trying to rebuild hope in a multiracial multicultural society. Danny Dorling, Prof of Human Geography, University of Oxford. Chair: Steve Puttick. Interlocutor: Amber Murrey, Associate Professor in Human Geography, University of Oxford, Confronting the deafening silence on race in geography education in England: learning from anti[1]racist, decolonial and Black geographies.
7th November
Are mixed ability classes bad for school performance and educational choice? Or for social and ethnic inequality? Prof Janne Jonsson, Nuffield College and Department of Sociology, University of Oxford. Chair: Susan James Relly.
14th November
Muslim children and schooling Aminul Hoque, Lecturer in Education, Department of Educational Studies, Goldsmiths College, University of London. Chair: Jason Todd.
21st November
Creative Multilingualism Katrin Kohl, Prof of German Literature, University of Oxford. Chair: Heath Rose.
28th November
Panel: Race, education and schooling. Policing in schools and implications for anti-racist school policy. Dr Shabna Begum, Head of Research, Runnymede. Black British English & History students' experiences of their time in secondary school/sixth form. Lesley Nelson Addy, Education Manager, Runnymede. Lit in Colour: considerations for curriculum and teachers. Dr Velda Elliot, Associate Professor of English and Literacy Education. Chair: Jason Todd.
Last Thursday (22.09.22) saw the 10th Anniversary Celebrations of the Rees Centre. Leon Feinstein (Director of the Rees Centre), Judy Sebba (Professor Emeritus of Education), and Sir John Timpson mark a decade of achievement in providing improved education, wellbeing and life outcomes for those who have been supported by children's social care services. Congratulations on this very special achievement and many more to come.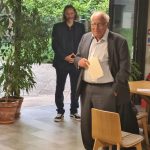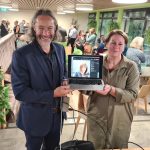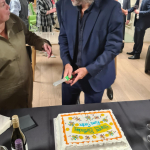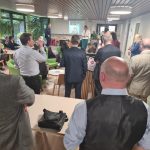 The REF Impact Case studies have been published. The Department of Education has submitted 5 impact case studies which were all ranked at 4*. The impact case studies illustrate the breadth, depth and quality of the impact that the research carried out in the department is making on the policy and practice of education. Further information about the impact case studies can be found at at https://results2021.ref.ac.uk/impact.
The Scottish Qualifications Authority have today released reports on stakeholders' views of national assessments in Scotland, four of which were conducted in conjunction with the Oxford University Centre for Educational Assessment and Glasgow University.
Professor Jo-Anne Baird at the University of Oxford and one of the co-authors of the research, said: "Public confidence in national qualifications is incredibly important for learners.
"Our findings show that people want a qualification system that fits modern Scottish society – one that is learner-focused, with choice, flexibility, and the capacity to adapt to the needs of learners with different skills and in a range of contexts."
The research has been published on SQA's website to support discussion around the future of assessment in Scotland.
See the article on our findings in the TES magazine.
Professor Jo-Anne Baird and Associate Professor Michelle Meadows, from the Oxford University Centre for Educational Assessment speak to Schools Week this month (August 2022) about how exams cannot close the attainment gap, and the importance of addressing the underlying causes. Read the full article by clicking here.
The views and experiences of over 7,500 children and young people in care on their contact with family members and impact on their wellbeing are uncovered in a new report published today by the charity Coram Voice and The Rees Centre at University of Oxford.
Staying Connected finds that nearly a third (31%) of children (aged 8-10) and a quarter (25%) of young people (aged 11-18) felt they were seeing their mothers too little, whilst over a fifth (22%) of children and 18% of young people felt they were seeing their fathers too little. 22% of children didn't feel they had enough contact with their brothers and sisters, and this figure was higher for young people (31%). About one in five young people had no contact with either parent and this was particularly the case for those in residential care and boys.
Visits being arranged at inconvenient times, long distances, the costs of travel, their family's circumstances, and workers failing to make necessary arrangements were among reasons cited by children and young people for seeing family less often than they wanted. Children in care who felt they saw family members too little reported feeling sad, angry and unsettled, while in contrast, those who felt contact arrangements were "just right" felt they were being listened to and looked forward to seeing their family.
One young person (aged 11-18) commented: "I want to see my family more. My social worker is supposed to be doing police checks. I have been here since September and the checks have not been done. It's not like I can just visit. I live five hours from home."
Whether children and young people felt that they saw parents often enough was statistically associated with length of time in care, type of placement and which local authority was caring for them. Analysis shows that young people (aged 11-18) in residential care more frequently reported that they had too little contact with family compared to young people in other types of placements. The number of placements experienced also had an impact, with 60% of young people who had only had one placement reporting they were satisfied with their contact frequency, compared to 39% who had experienced 11 or more placements.
In addition, 50% of young people surveyed did not feel involved in decisions social workers made about their lives, and half of the comments about involvement focused on contact arrangements. Children and young people commented on arrangements being inflexible, not changing as they got older or as their family's circumstances changed. One child (aged 8-10) commented: "I used to see Mum and older brother three times a week. It has been cut down to once a week and this makes me sad. I don't know why contact was cut down."
Comments also highlighted that children and young people wanted to see extended family members, pets and other adults who were important to them, and that the key people in their lives were not always included in contact plans.
Staying Connected is the latest report to be published as part of the Bright Spots programme* and it makes seven key recommendations to improve policy and practice:
Work with all children in care to identify the key relationships in their lives
Make arrangements for children and young people to maintain contact, develop relationships and reconnect with people who are important to them
Listen to and involve children and young people in decisions about the arrangements to see and keep in touch with family and others who are important to them
Keep children in care informed about their families, why they can or cannot see them, and what arrangements have been made for them to spend time together
Ensure plans are regularly reviewed and reflect the current circumstances, wishes and needs of children and young people and their families
Normalise family time whenever possible, minimising the use of contact centres and supporting children and families to meet in the community
Make sure the workforce has the skills and knowledge to prioritise and confidently support children in care to stay connected to the people who are important to them
Linda Briheim-Crookall, Head of Policy and Practice Development at Coram Voice, said: "The recent Care Review suggested the primary objective of the care system should be promoting the formation of lifelong loving relationships around children in care and care leavers. This can only be achieved if more is done to build rather than break relationships with the people who are already important to children in care. Our research showed that there is still some way to go to make this happen. Services and workers must listen to children and young people about who they want to see, when and how and seek to make this happen. Children in care should have the opportunity to spend time with the people who are important to them doing everyday things like playing games, having a meal or going for a walk with the dog."
Julie Selwyn, Professor of Education and Adoption at The Rees Centre at University of Oxford, said: "While previous UK research has emphasised that the quality of contact is more important than the frequency, from young people's perspective frequency was equally, if not more important. Feeling contact was 'just right' was associated with higher levels of wellbeing. Staying connected to the important people in life is essential for children's wellbeing. Greater efforts need to be made to ensure that this is achieved for all children in care."
To read the full report, watch a video on the findings and download resources for agencies and local authorities, please visit coramvoice.org.uk/staying-connected-report.
'I haven't been able to put this book down! It covers adversity and trauma through a mixture of reflections, discussion points, poems and written conversations', that's one reader's reaction to a new book by Lisa Cherry who is currently completing a DPhil at the Rees Centre, Department of Education, and asking the research questions: "How do care-experienced adults who have been excluded from school understand those experiences? How do their experiences deepen understandings of belonging?"
Congratulations to Lisa who has been awarded Routledge's Outstanding Book in HSS & BS&E for her latest book 'Conversations that Make a Difference for Children and Young People', which endeavours to explore and build upon the research underpinning the impact on care-experienced adults.
Lisa comments: 'This book is essentially a collaboration highlighting outstanding practice in relationship focused approaches with children and young people. I am so proud of what has been achieved.'
You can purchase your copy here.
Families across England have made history this month (June 2022) as they joined the first new national birth cohort study of babies to be launched in more than two decades, at a time of huge significance for the country as it emerges from the COVID-19 pandemic.
The study will be led by UCL researchers in partnership with Ipsos and the universities of Cambridge and Oxford and Birkbeck, University of London. Tens of thousands of letters have been sent out across the country to more than 8,000 parents and their babies, inviting them to take part in the nationally representative "Children of the 2020s" study.
Commissioned by the Department for Education (DfE), the study will follow children during the first five years of their lives, and potentially beyond, shedding new light on the factors that can influence their development in the early years.
The evidence gathered will answer important scientific and policy questions, which will help inform decisions about early years and childcare services and improve the lives of families with young children in England.
With their babies now nine months old, the families randomly selected to take part will soon be visited by the study's interview team, starting from next week, to answer questions about their child's development, family circumstances and their own lives.
Funded initially for five years, parents will be asked about their child's development, their neighbourhood and family context, family structure, health and mental health, the home learning environment, and formal and informal childcare provision and preschool education.
Study director, Professor Pasco Fearon (UCL Psychology & Language Sciences and the University of Cambridge) said: "We are extremely excited to start meeting with families next week for the first new birth cohort study of babies in England since the millennium".
Co-investigator Dr. Sandra Mathers at the University of Oxford, Department of Education, is leading the aspect of the work which focuses on children's childcare and education. She comments: "Children's experiences during their first five years shape their development later in life. In this time following the COVID-19 pandemic, understanding how childcare and early education can help promote children's wellbeing, social skills and learning will be vital. The Children's of the 2020s Study will provide important evidence about how early years services can support children to make the best start at school and flourish as they are growing up."
Between the surveys, the research team will invite parents to use a smartphone app to log their baby's language and development, while receiving news and tips from the team of experts.
With parents' consent, routine administrative data, held by government departments, such as family health, educational and social care records, will be linked to their survey data, enabling researchers to gain a more detailed picture of participants' lives.
Children and Families Minister, Will Quince, said: "This is an important study that will provide an insight into the crucial early years of a child's life and a wealth of evidence about their development and educational outcomes. We know the pandemic has created unique challenges for families and I'd like to thank the thousands who will be participating in this study over the next five years.
"We are committed to supporting families, including through a multi-million-pound package to transform services, which will create Family Hubs in half of all local authorities and provide important advice to parents and carers through the Start for Life offer."
Speaking ahead of a visit to UCL last year to learn about the new study, Her Royal Highness, The Duchess of Cambridge said: "Our early childhoods shape our adult lives and knowing more about what impacts this critical time is fundamental to understanding what we as a society can do to improve our future health and happiness.
"The landmark Children of the 2020s study will illustrate the importance of the first five years and provide insights into the most critical aspects of early childhood, as well as the factors which support or hinder positive lifelong outcomes."