Staff and students showcase their research at the department's annual poster conference
Monday, November 4, 2019
Category: News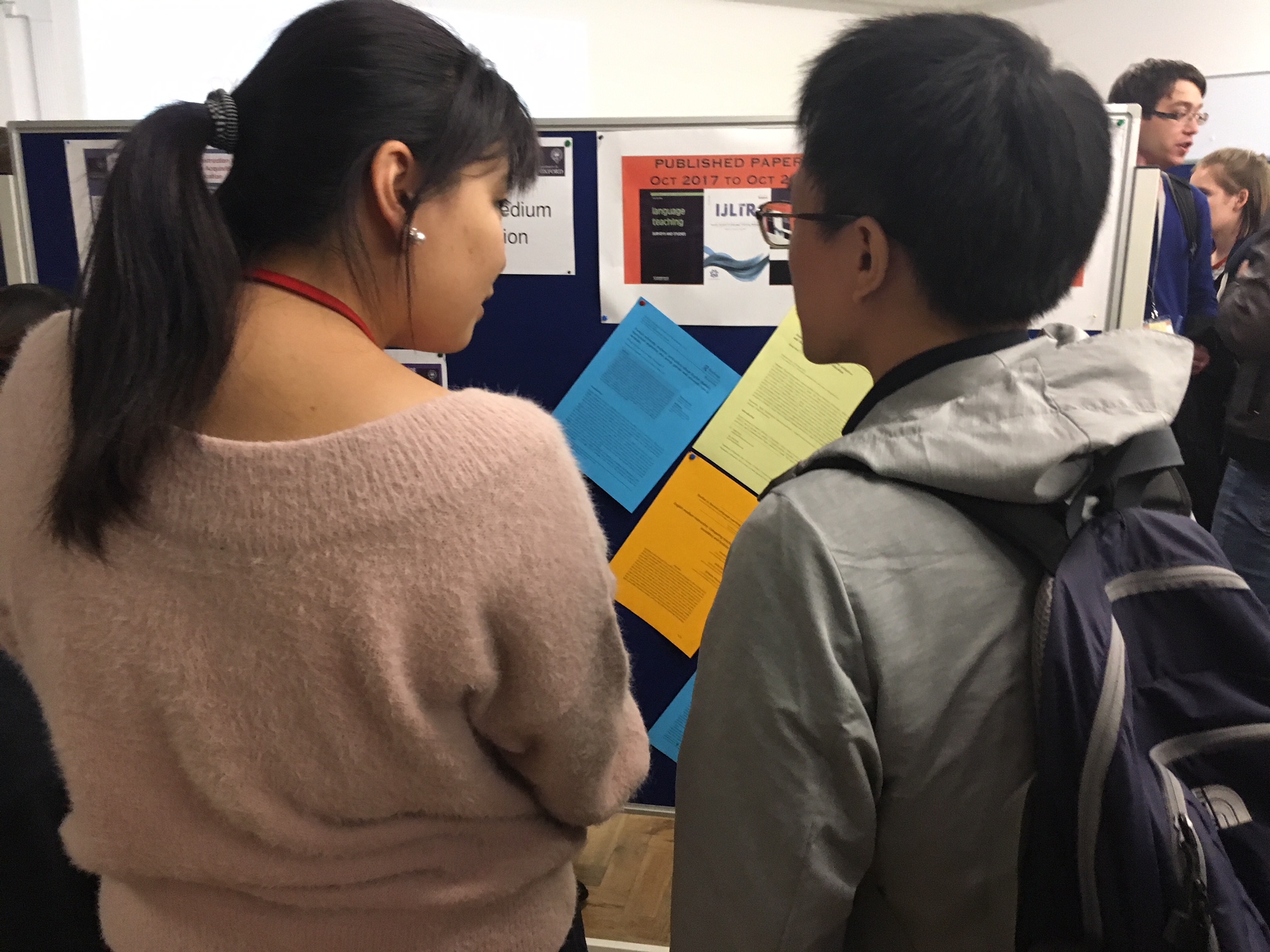 Taking place on 14 October, this year's annual poster conference offered attendees the chance to discover more about the work being undertaken within the department with each research group being represented during the evening.
All of the entries to the conference were judged, with six winners being commended due to their clear explanation of the research undertaken, simple presentation and effective design.
Congratulations to doctoral students Paul Riser, Kedi Simpson, Yoon Young Lee, Chris Heenskerk and Ikuya Aizawa, and Masters in Education student Annelotte Hilders who won for the following posters:
Paul Alan Riser (DPhil in Education), 'Understanding marginalized students' identities work and their learning experiences in English language Arts classroom'
Paul's research focuses roughly on the formation of student identities/personae as expressed in English classrooms. Through conversations with other students, teachers, and in interaction with literature and poetry, Paul seeks to understand how we become who we are through our interactions in the learning/educational sphere. Paul hopes to capture the marginalized individual's experience, believing the work will benefit teachers and students as they work toward positive interactions around life's biggest ideas.
Kedi Simpson (DPhil in Education), 'A cognitive perspective on language learners' listening comprehension problems: A replication of Goh (2000).'
Kedi's poster reports on the pilot findings of a replication study carried out with the help of her doctoral supervisor Dr Robert Woore, as part of the 'Second Language Acquisition for all' campaign for more replications in our field. The study found that teenage learners of French and Spanish reported their listening difficulties to be largely problems related to perception – ie issues such as whether they could cope with the speed of what they were hearing, and problems with concentration or focus; more linguistic difficulties such as vocabulary and grammar were less frequent. It was also found that the least proficient listeners also struggled to articulate their problems. The main phase of the study will be undertaken in the second half of 2020.
Yoon Young Lee (DPhil in Education), 'The interplay of the use of national teachers' standards and the reconceptualisation of a teacher education programme in England'
Yoon Young's research looks at the relationship between the use of national teachers' standards and the reconceptualisation of a teacher education programme in England. This research will help teacher educators and teacher education curriculum designers gain insights for their own process of change, through an analysis of the dynamics of changes made within a teacher education programme. Policy implications derived from the findings will be of use to deepen the understanding of policymakers regarding how policy is actually interpreted at the programme level and how their decision-making impacts on teacher education programmes.
Chris Heemskerk (DPhil in Education), 'On-task behaviour in 7-11 year-old children can be improved by Physical Education lessons'
Chris' research looked at the benefits of Physical Education lessons for subsequent on-task behaviour in the classroom in children in years 3 to 5 of primary school (age 7-10), and at the content of 6 different PE lessons. It concluded that Physical Education lessons can improve on-task behaviour, and in particular lessons which are at high intensity and use complex movements. The benefits differed based on personal characteristics, with those who were underachieving academically, and those who did not usually meet the government guidelines for physical activity improving their on-task behaviour the most.
Ikuya Aizawa (DPhil in Education), 'The impact of Medium of Instruction on university students' content learning in Japanese Higher Education'
Ikuya's DPhil project investigates the impact of studying academic subjects in English on Japanese undergraduate students' learning in comparison to learning through their first language. It will also explore potential challenges faced by students regarding their disciplinary learning through English in comparison to Japanese.
Annelotte Hilders (MSc Education – Child Development and Education), 'Working with Oxfordshire County Council to study the effects of the EasyPeasy app for parents'
Annelotte's MSc dissertation evaluated a large-scale intervention of the EasyPeasy app, implemented in Oxfordshire primary schools. EasyPeasy is a smartphone based app designed to promote parent-child interactions through games that encourage parents to play together with their children at home. The study was conducted in partnership with the Oxfordshire County Council and the EasyPeasy app developers. The aim of the study was to evaluate the impact of the EasyPeasy app on children's self-regulation and social-behavioural development. The experiences of parent using the app were also explored. Findings highlighted the important role of parental engagement in early years outcomes and attainment.