Response to Timpson Review of School Exclusion
Thursday, May 9, 2019
Category: News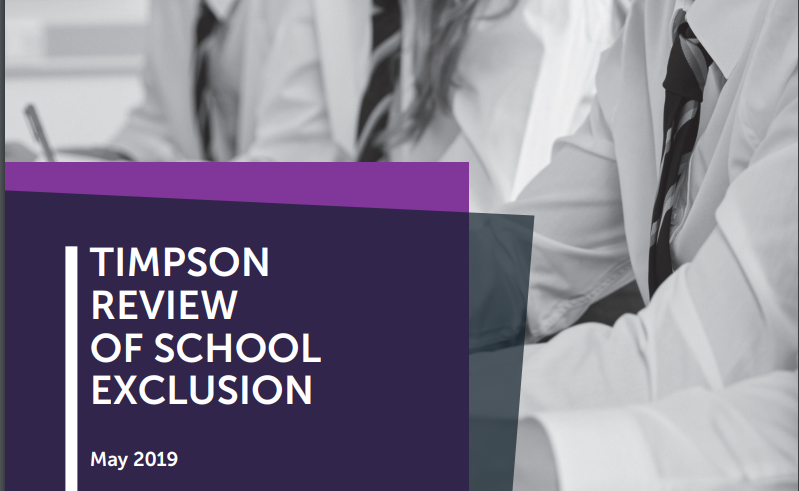 Following publication of the Timpson Review of School Exclusion and the Government's response on 7 May 2019, Deputy Director of the department's Rees Centre, Dr Neil Harrison said "Edward Timpson's wide-ranging report on school exclusions has once again highlighted that children in care and children in need are disproportionately likely to be excluded, amplifying the educational disadvantages that they face.
We increasingly understand that a vital ingredient in avoiding exclusions is for schools to adopt an attachment and trauma aware approach.  This seeks to understand the underlying reasons for young people's behaviour with reference to adverse childhood experiences such as abuse and neglect.  Informed by the latest research in neuroscience, there is clear evidence that these impact on the development of human relationships and frame how young people experience the world.
We are delighted that the report makes specific reference to these approaches and hope that their use in schools will be extended as a result.  Given the strong evidence base assembled by the National Institute for Health and Care Excellence (NICE), it is perhaps slightly disappointing that the recommendations are not stronger.
More broadly, we hope that the renewed focus on behaviour – which is already being unhelpfully billed as a 'crackdown' in some parts of the press – will be research-led and challenge the 'zero tolerance' approaches adopted by some schools that just serve to marginalise vulnerable young people even further.  We also note that the report recommends steps to limit the powers of schools to exclude young people and we welcome these.
Finally, we welcome the report's recommendation that attachment and trauma awareness should be integrated into initial teacher training, as well as into the professional development of senior leaders.  This is a very positive step and we are heartened that the Government has accepted the need to review the content, albeit without a firm commitment at this stage."
The Rees Centre evaluated three attachment and trauma awareness projects between 2016 and 2018 in Bath and North East Somerset, Leicestershire and Stoke-on-Trent.  These studies broadly supported a focus on attachment and trauma in schools in order to improve behaviour and wellbeing, reduce absences and support learning and attainment.  Staff and pupils generally also reported that schools had developed a more positive and calm environment as a result.
Bath and NE Somserset Attachment Aware Schools Programme Evaluation report (pdf)
Leicestershire Attachment Aware Schools Programme Evaluation report (pdf)
Stoke on Trent Attachment Aware Schools Programme Evaluation Report (pdf)